Recycling Jars Ideas For Christmas
Now we will talk about our an amazing subject one of the most famous subjects on the internet, recycling jars. I want to clarify how to make recycling jars ideas for Christmas and how to decorate them in a lovely way with new designs to attract any one when see them.
Today I will show you some inspiration images to inspire you how to make recycling jars for the Christmas day by jars of tomatoes sauce that most people leave it in the dumpster, we will get it and paint the outside with colors in a circular ways then put colored sand inside and put sweets for the Christmas.
Always you can use the recycled jars in your decorations around your house or even inside your house at any time of the year for any occasion such as: Easter, 4th of July, Halloween, thanksgiving, Christmas and for Ramadan too for all Muslim people.
You can get glass jars and decorated them with colored steamers and make small Christmas trees and put every one of them in a jar and put some glitters inside the jar and put small branches of lights and put the cover on then leave them on the table of dinner in the Christmas day it will give a beautiful view.
There is another idea to make a recycling circular jars and we will design a small house; and put the light inside it, then we will cover it; and we will write a sentence of " merry Christmas on it ".
After you bring a nice recycled jar try to draw Santa Clause on it and put the glitter inside then put some lovely flowers inside it by this way you will transfer the old jar to a wonderful recycling jar for the Christmas. Check out some of these incredibly creative ideas for using Christmas jars all around your home. And don't forget to share Recycling Jars Ideas For Christmas with your friends.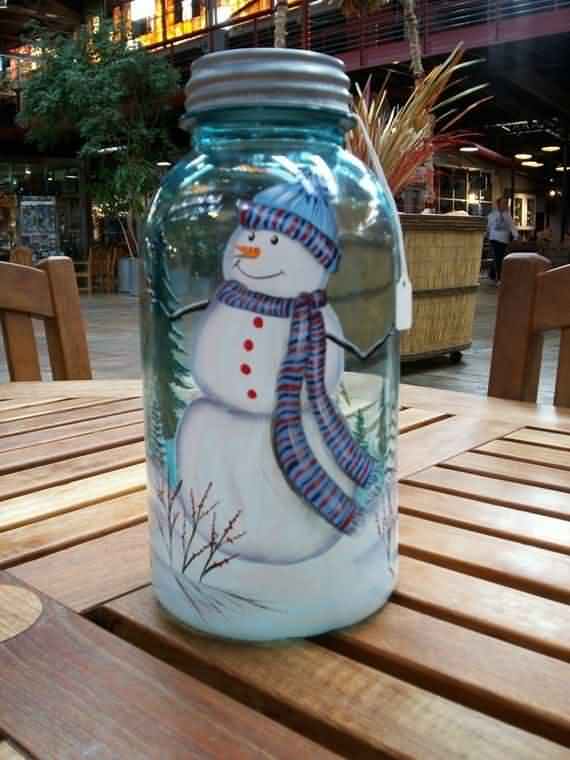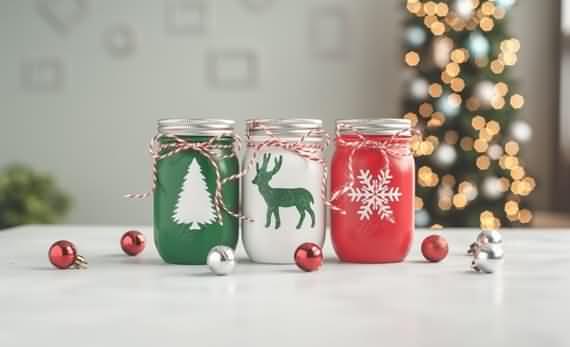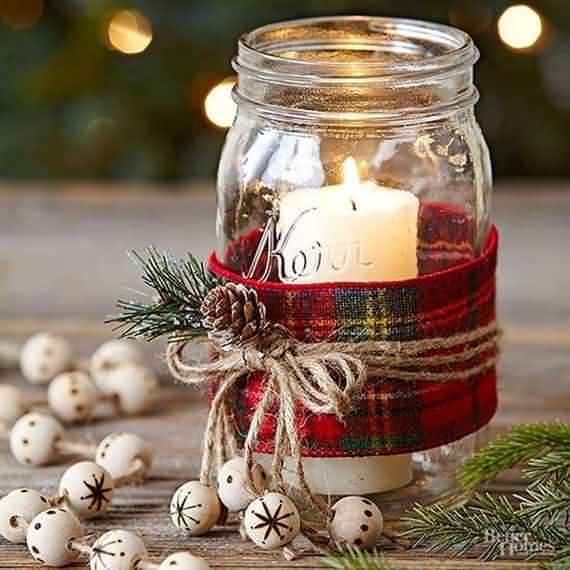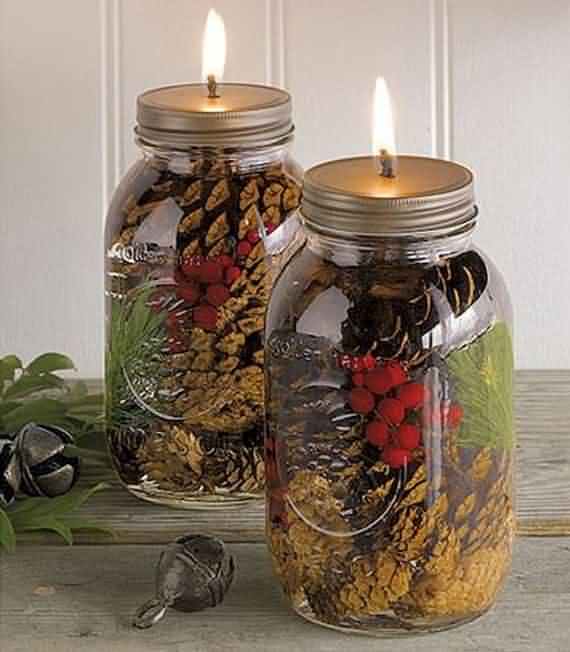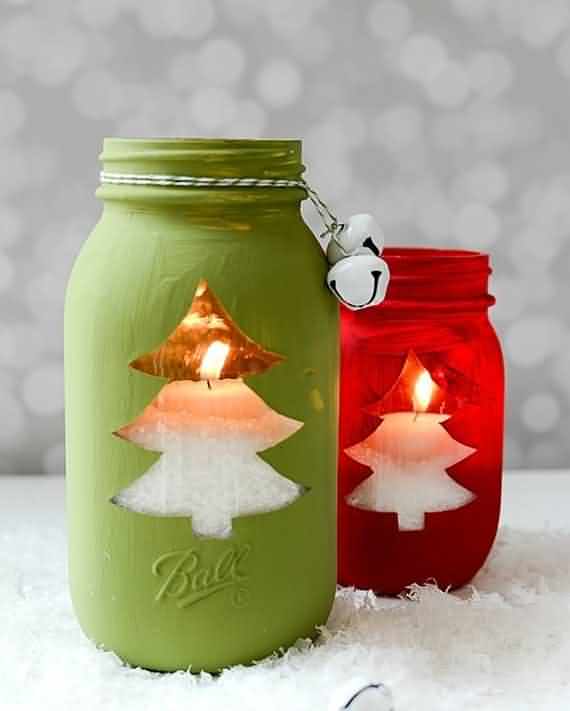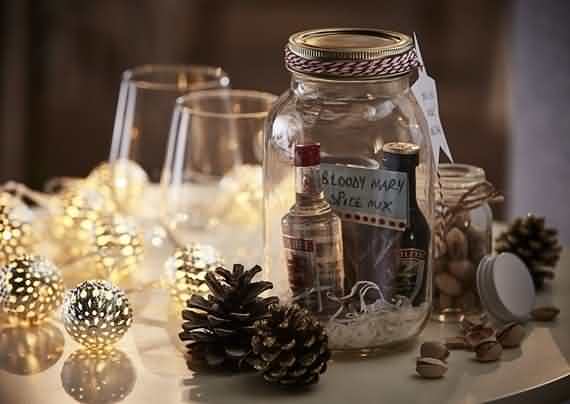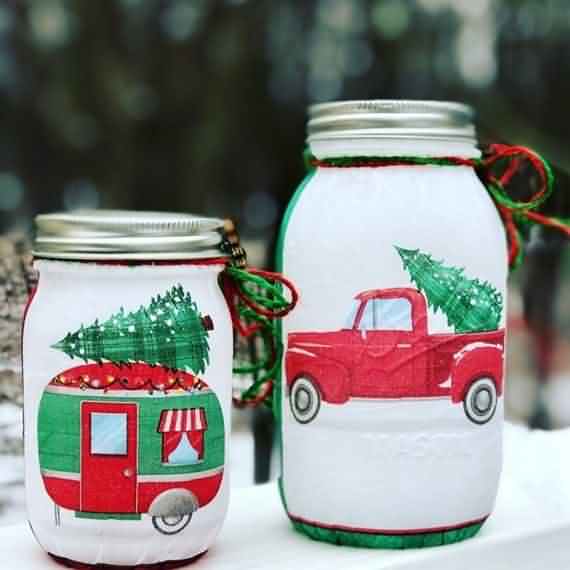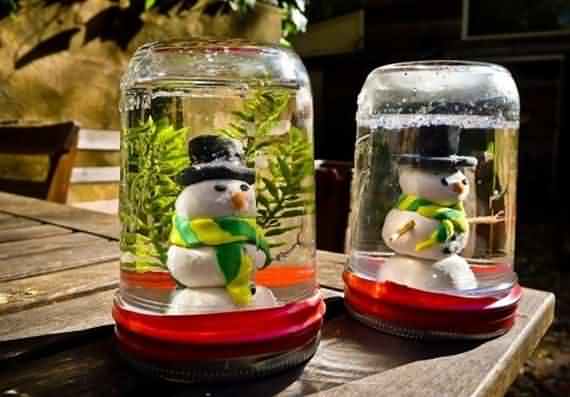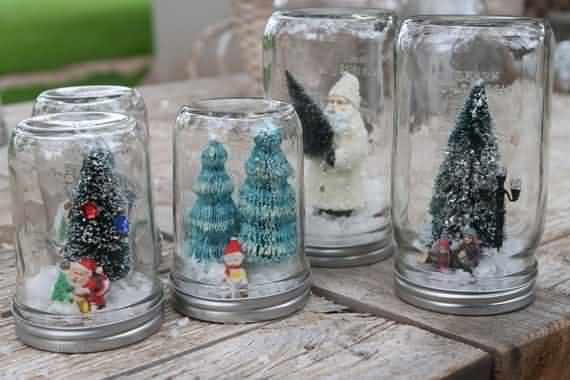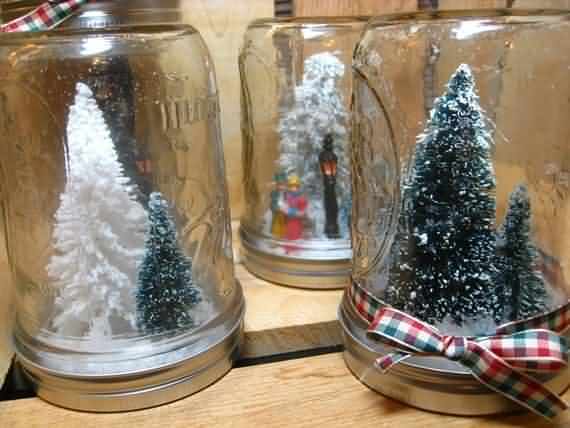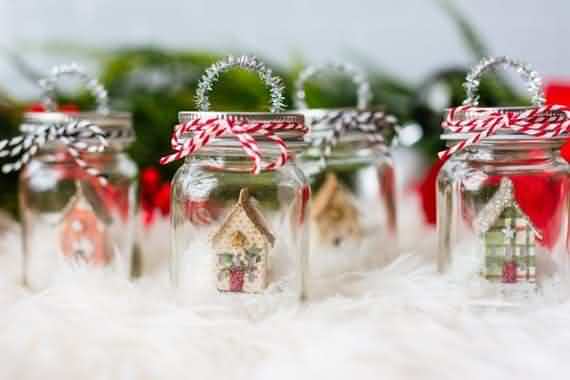 Recycling Jars Ideas For Christmas Time
This snow globe features a snowman as the centerpiece in a jar; but they also have plenty of other snow globes for you to try. They end up looking like real snow globes; that you'd buy in the store, except they're made with jars; and other common arts and crafts materials.
If you are talking about an easy designs, all this design really requires is adding cinnamon sticks to pine cones and putting it in a jar. But its pretty creative because most people haven't tried cinnamon sticks next to pine cones with a lovely colored ribbon, so they'll be trying out a new taste sensation and they won't really be thinking about how long it took you to make it or what it involved.
This jar is made to look like a pottery barn decorative jar; but without the high price issue. Many of the craft you see in stores you can make it at home; as long as you have the instructions in front of you or you can search on it on the internet. These turn out great, and make a festive decoration for the holiday season.
If you have a candle addiction like me, you likely end up with a bunch of leftover glass jars; and you're wondering what to do with them. You can add a tall candle inside the jar or fill the jar with some water; and put a floating candle inside it.
Yes you can even make a Christmas jar for most of your bathroom stuff.
Well you can get an old glass jar and put small balls of cotton and Q-Tips then paint the jar from outside and leave it open without cover to be used easily.
And try to put your hair care purposes in one of the Christmas jars
There are many hair care purposes that need to be organized like hair ties; or hair pins this is a good way to keep the purposes to be easy to reach it morning . Or we can use the jars as boxes for children supplies like their combs and teeth brush. Enjoy some of these Recycling Jars Ideas For Christmas: