Creepy Halloween Cupcake Ideas
are a new and great way in the mean time to celebrate the Halloween day with amazing eating new look. Most moms and for sure all professional bakers are able to create nice smile; they can make it by making the right sweets surprise for the holiday. And for sure they are also able to spread the Halloween atmosphere in that day. Eerie Halloween cupcake ideas are super cool ideas for all family ages not just for kids only; and for sure for the professional bakers that can help you to create your own.
Last few years we found new trend for the Halloween; we would like to put this trend under spot light to see what is it and what's new in it. This trend is all about involving the food industry too with this amazing holiday. Same thing they make it in the 4th of July the Patriotic day (you can see Patriotic day cake & cupcakes designs ideas).
So we are introducing some Halloween theme cupcake designs and ideas. This Halloween cupcakes comes in some great themes like witches, skeletons, ghosts, spiders, creepy faces, Zombies, eyeball, mummy's, monsters, Frankenstein cupcakes; and even scientist brains or all creepy Halloween characters … etc. I hope that all of Creepy Halloween cupcake ideas meet all of your style and the way you want to enjoy your Halloween day.
You have to always keep in your mind that, Halloween is one of the best holidays it gives you the opportunity to decorate and design your favorite desserts. For me it's one of my favorite's holidays. It starts from all kinds of cakes, the baked cupcakes to Halloween themed treats.
Don't forget that we always use pumpkins in all of Halloween stuff even cupcakes or regular cakes too and for sure in pumpkin decorating and pumpkin craving. for some Halloween cupcake recipes you can see bettycrocker.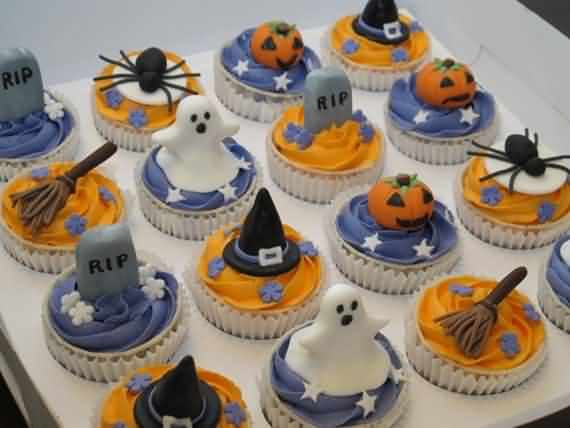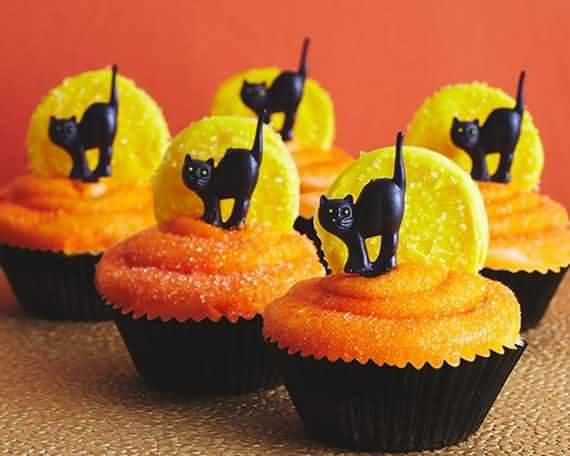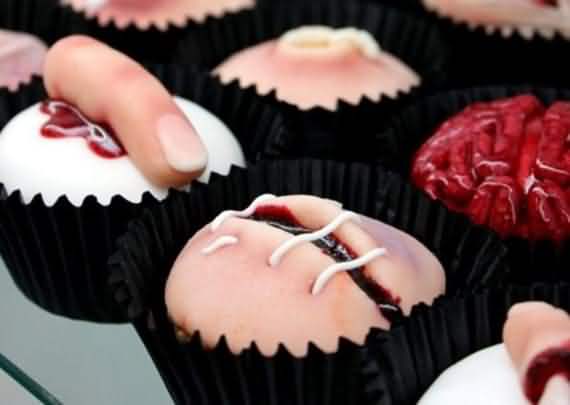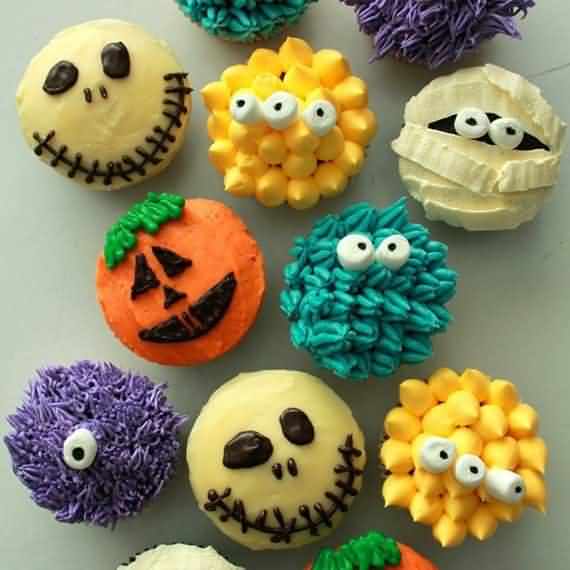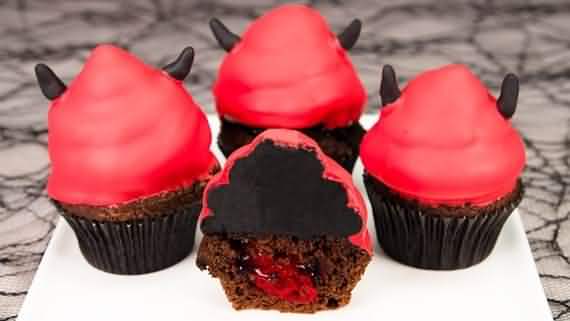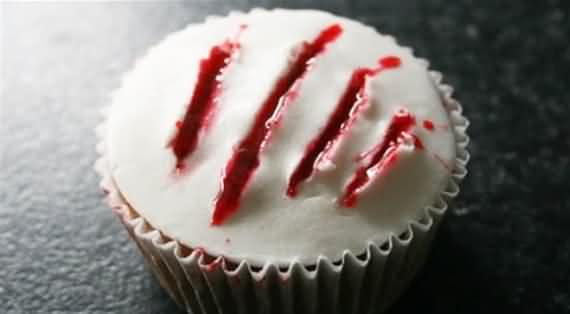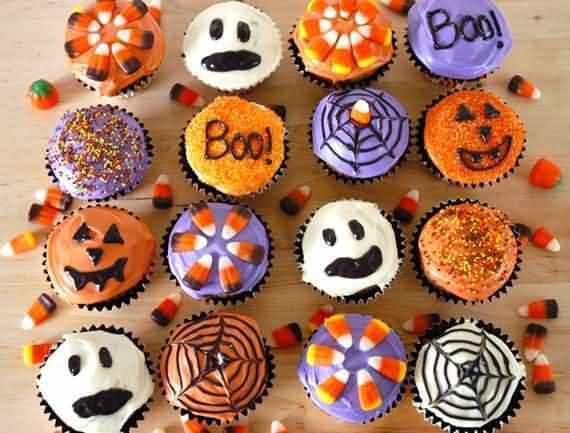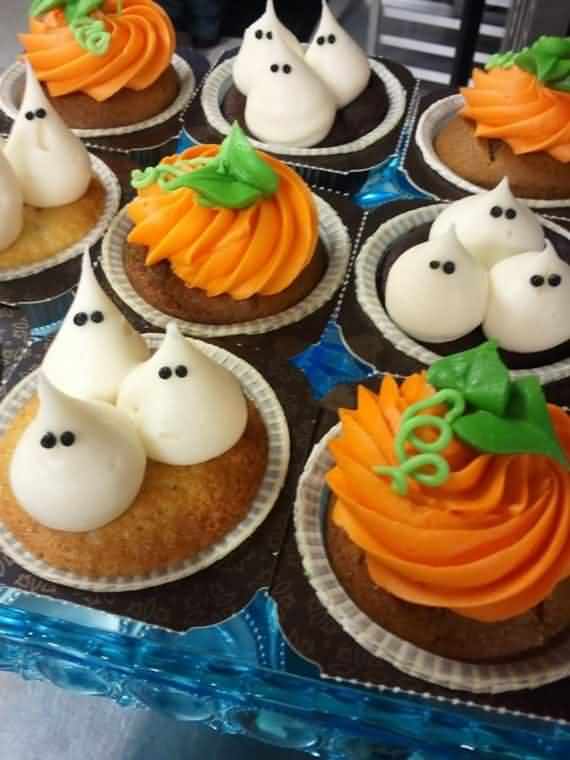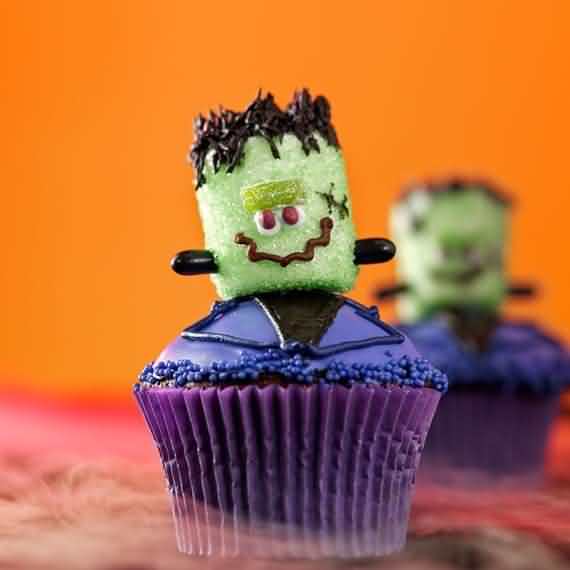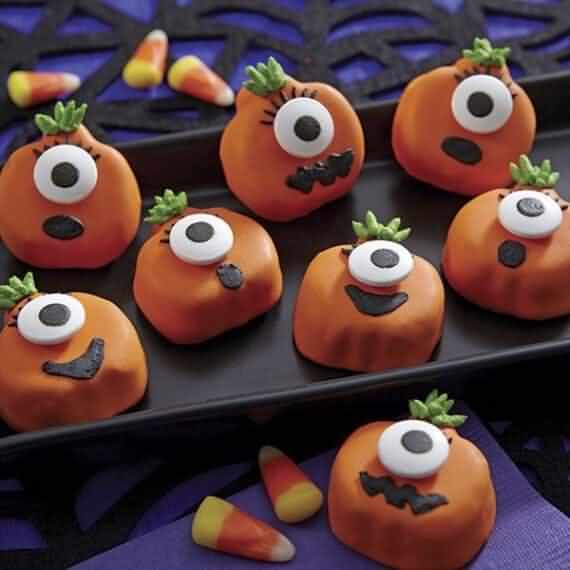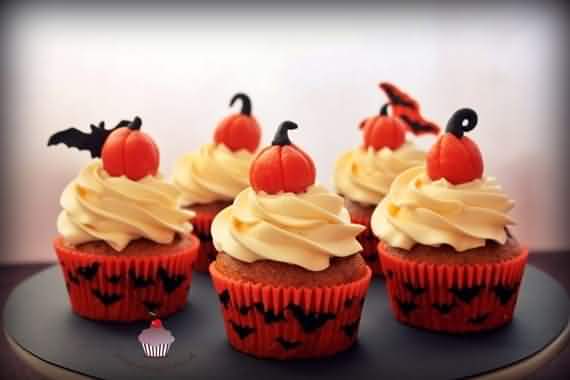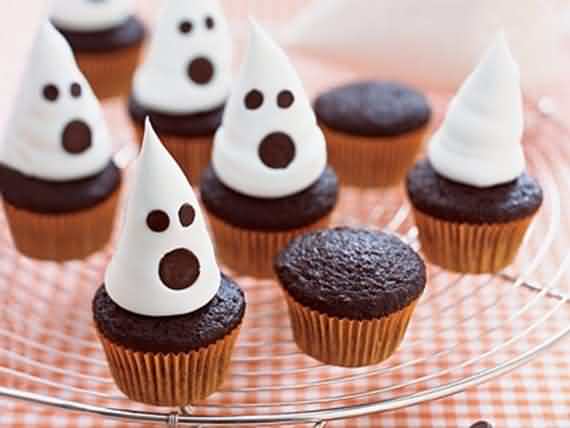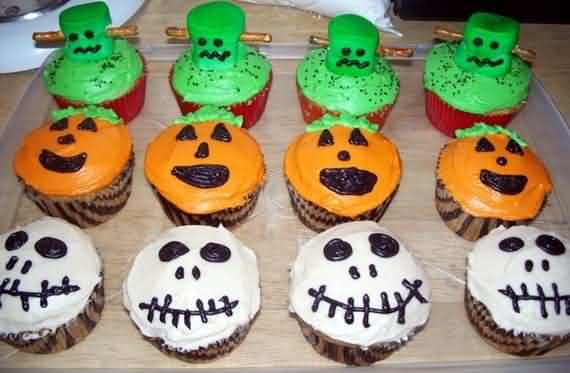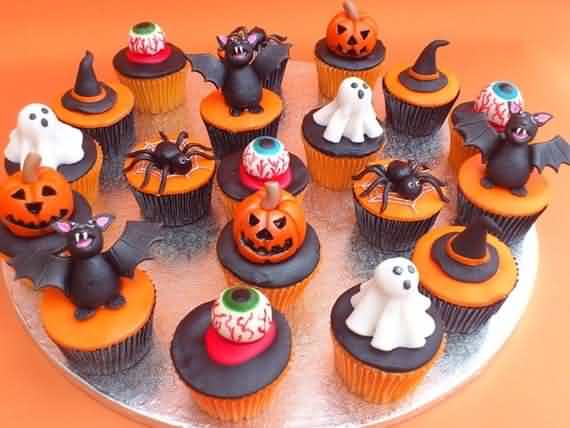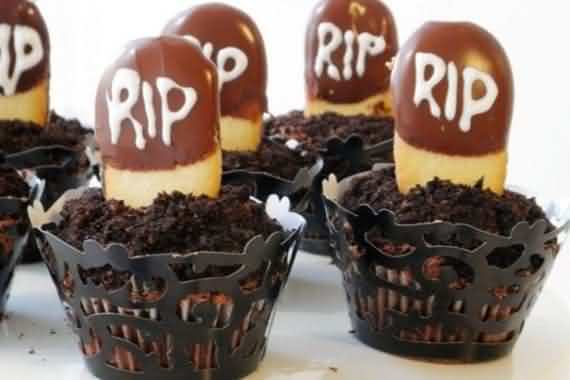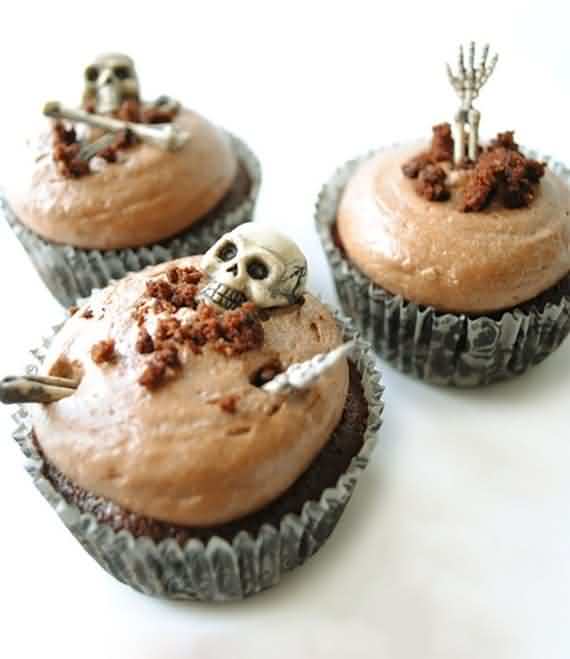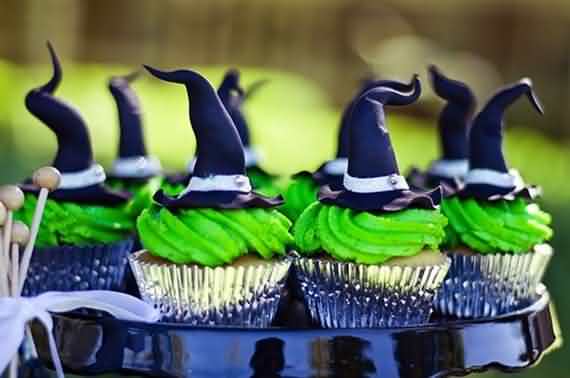 Halloween cupcake designs
Nowadays you can say that cupcake designs are the perfect dessert choice for any celebratory occasion; it's a perfect canvas for your free imaginations and artistic creations. Plus that all the cupcakes can be easily transformed to any ideas that you want for Halloween that range from scary Halloween cupcakes to some less scary Halloween cupcakes. There are many different ideas for decorating Halloween cupcakes.
You can make all the Halloween cupcakes the same look or even make some changes to each cupcake to look a little bit different if you wan to; all you have to do with a bit of creativity is to decorate them with some creepy or spooky decorating items.
The world of Halloween desserts is not a regular place where you can find good looking sweets. It's a scary place where you can find a lot of deeply rooted symbolism creatures to enjoy celebrating of this Halloween day. So, if you want to trick and treat; and also surprise your friends for good Halloween day, we collect for you some Halloween cupcake ideas, started from horrible to adorable are made especially to impress all the audiences.
The Cupcake toppers and all the eerie looking treat decorations with easy ideas for decorating some themed Halloween cupcakes. you can do that easily by adding some frosting, or may be a little bit of fondant; some candy and sprinkles to any cakes or cupcakes : the your plain cupcake either homemade or the store bought cupcakes…
As we always know now that the desserts became part of our modern life in any occasion ; the Halloween desserts are the important part of Halloween celebration day too; so many of us can't go that far with cake decoration of these terrifying treats; but can back very easy with a simple cake. If you are that kind of women that love kitchen and love cooking; so you can make the cupcakes by yourself; then you can make your own chaps and decorating designs.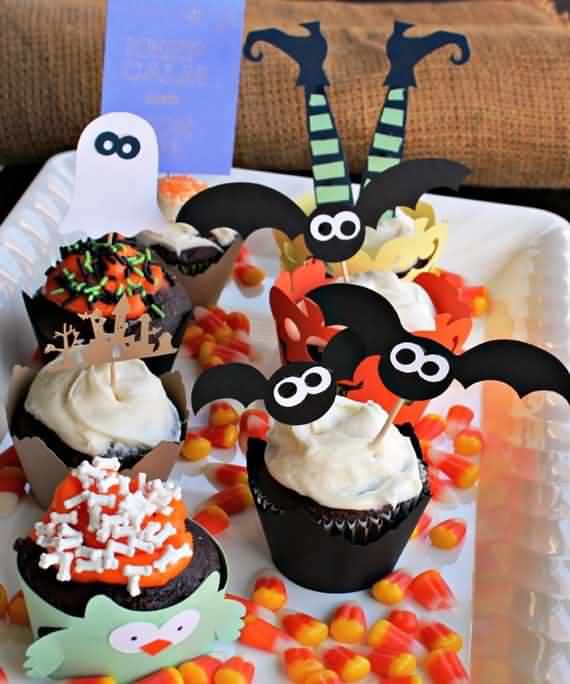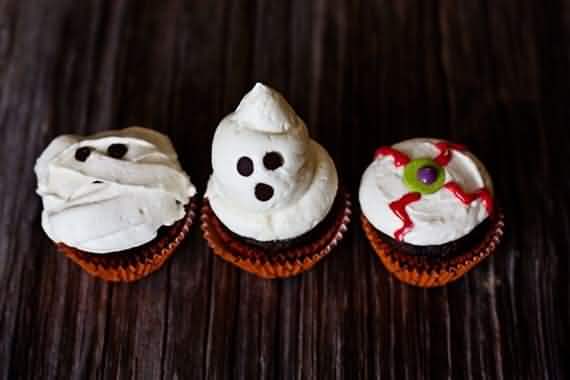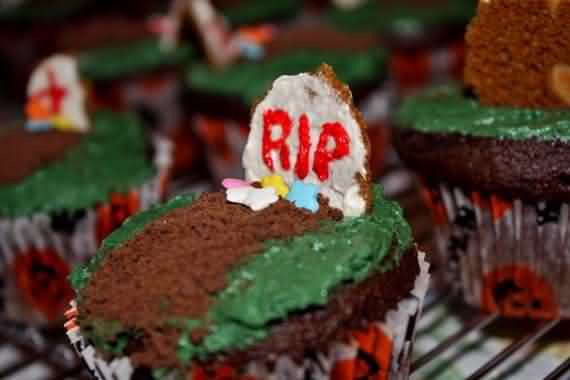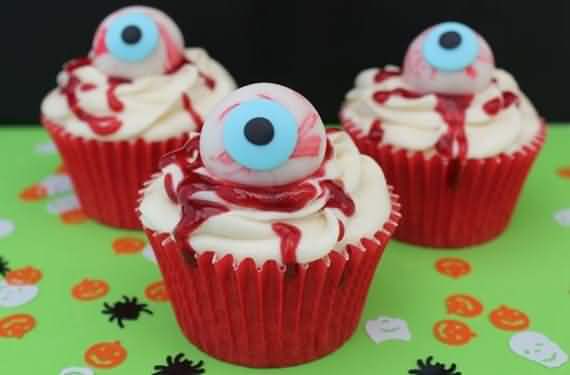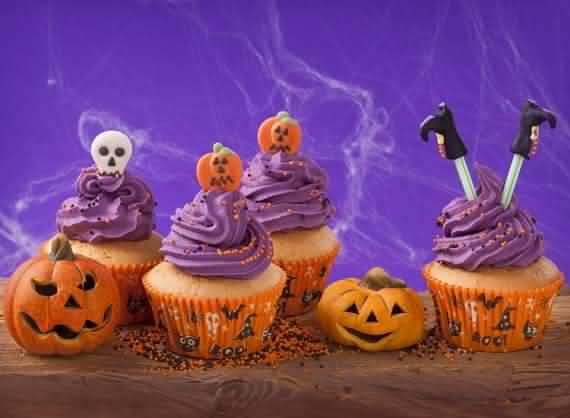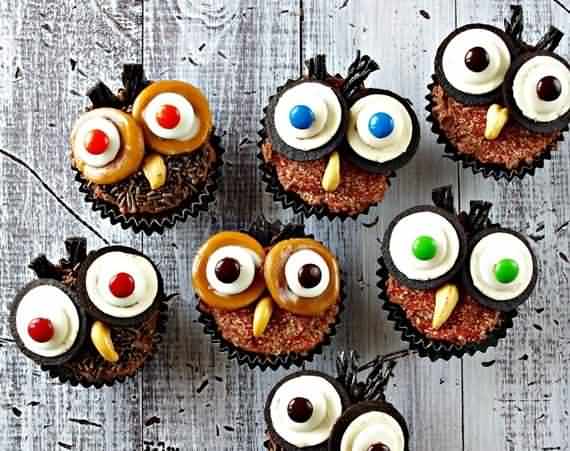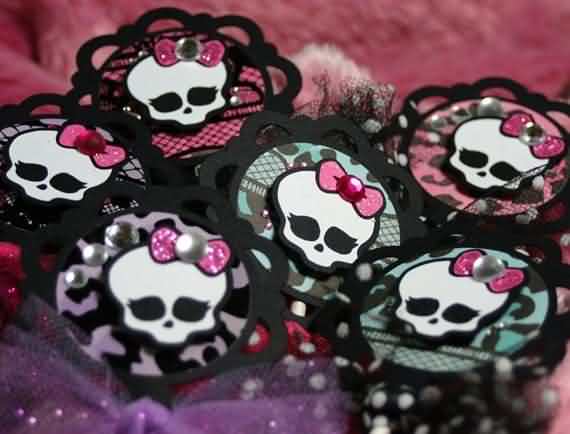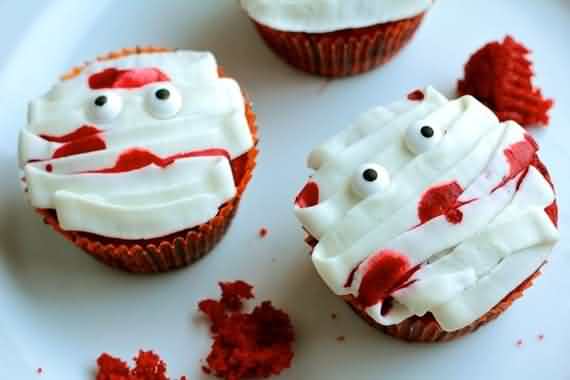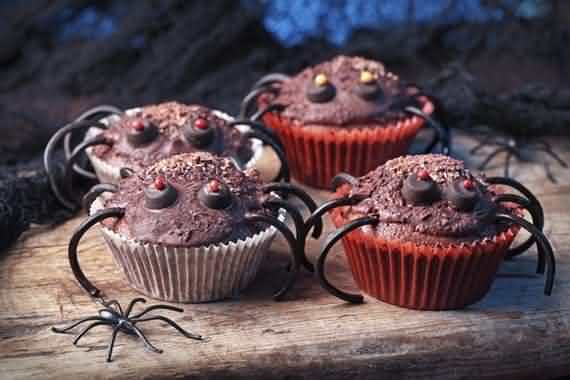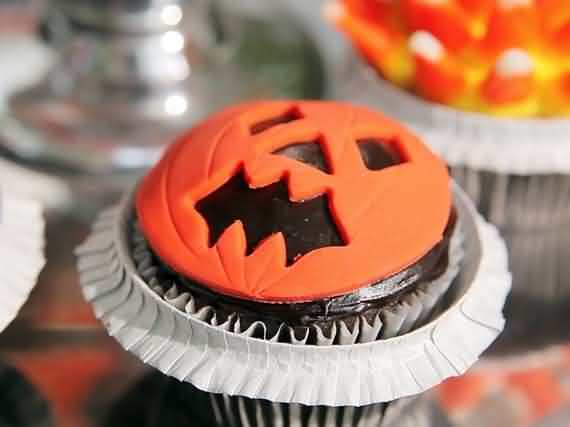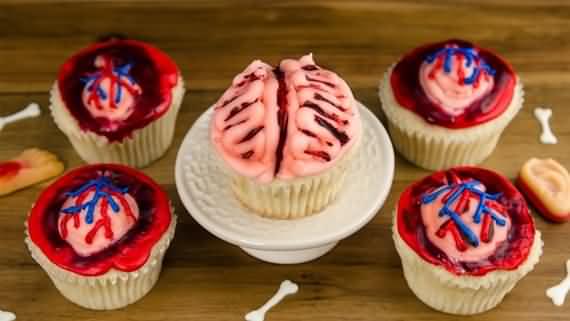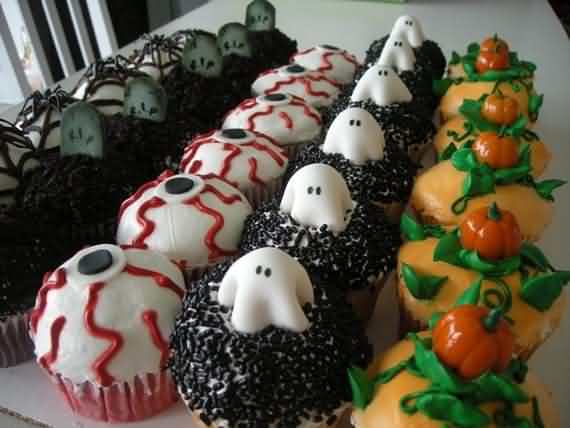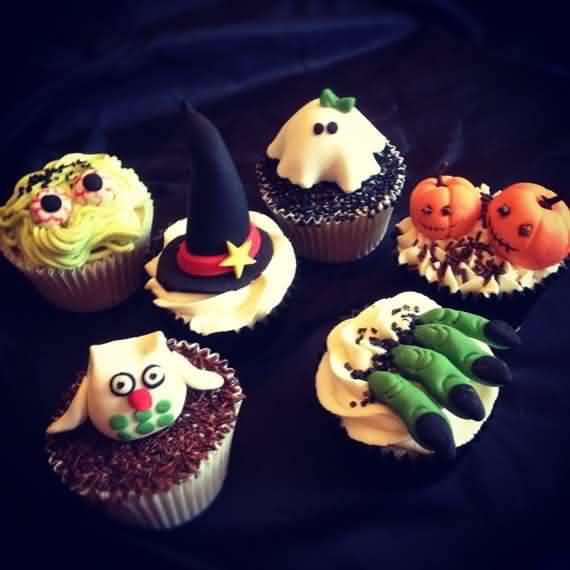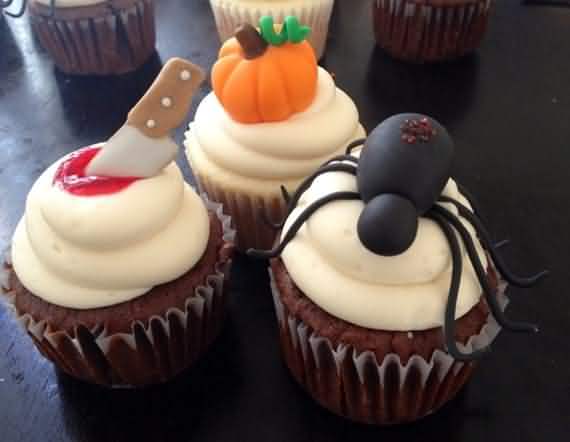 Halloween cupcake topper
The important thing in any cupcakes is Cupcake toppers; this topper is the magic touch for any holiday profile. By changing the toppers of the cupcakes you will be in different occasion.
And if you are not that kind of women that doesn't love the kitchen that much here is an easy option for you. So it's more than enough for you to just make the topping decorating designs.
All we need from you is just choose your favorite cupcake creation for adding details; and make tons of delicious fun cupcakes in order to celebrate your special day. It is not hard at all to decorate the cupcakes; it's very easy thing to do and it's very easy too to make a balance between cute and spooky. Well, the cupcakes are very easy to make; fun to decorate, and very popular in fact you don't need to be professional baker to create cute; and scary Halloween cupcakes.
Simplicity is the real address to success; so the best Halloween treats are those desserts with simple decorations…simplicity is an easy thing to do decorated with finishing touches and toppings.
Because of the world of Halloween desserts is a scary place; so you must see all of that reflects on Halloween sweets party table. Only there in Halloween party you can find the bloody brains cupcakes, creepy vampire cupcakes; Friday cat cupcakes, vampire cupcakes used as appetizers. And also find any red juice or soda as a blood; but have no fear at all.
Finally; we've gathered some amazing Halloween cupcake designs to inspire you; and also you can decorate some of cupcakes cute; and decorate some others cupcakes creepy to get your spooky Halloween spirit on.
Check them out, and have fun decorating your own Halloween cupcake; so everyone try to enjoy his holiday to the maximum. try to take a look at Halloween lighting and candles decoration ideas.