Future Contact Lenses With Electronic Displays
As Wynn Stewart sang his great song" another day; another dollar" I can say with all my respect to the great singer Wynn Stewart "another day; another new technology".
Every single day there is a new technology comes up in our world; and the development in this technology is too fast and endless. You can say it's an addiction once your legs are in; you can't get out of it without new technology under your name or under your use.
Or CL, it is a thin lens you can put it directly on the surface of your eye; to correct vision immediately; after you visit the eye doctor for eye check up. We can consider CL as one of the important medical devices you can easily wear it; or take it off anytime you want to correct the vision (easy to use). After that some beauty centers; & fashion designers start using contact lenses to make new look by changing the lenses colors. May be you can say contact lenses now is something from the past.
Google glass is an optical head mounted display connected to the internet; designed in eyeglasses shape to display some information in front of your eyes. May be soon we can say good bye Google glass and welcome to the future contact lenses with electronic displays.
This new contact lenses can be used both ways as a regular lenses and electronic lenses you can display and browse the web thru it and may be it will closely monitor your health in the future. According to mashable there are some Scientists from the Future Industries Institute of the University of South Australia have a proof of concept of a conductive polymer film coating that can transform contact lenses into little computers, which could work as electronic displays over the eyes.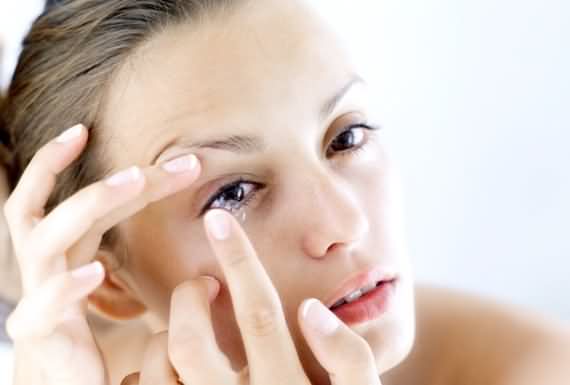 Future Contact Lenses
New vision
A lot of Medical researchers around the world are working to develop and fabricate soft; smart contact lenses by combining recent advances in wearable electronics with wireless communications.
Their new vision is to create a smart contact lens which is capable of monitoring the physiological information of the eye; and tear fluid, to provide real-time, non-invasive medical diagnostics for a lot of patients.
Some of several early attempts to manufacture smart contact lenses resulted in less than optimal products. Well there are some previous reports indicated that opaque and brittle components were used to enable the operation of the electronic device; which could also block the user's vision and potentially cause damage to the eyes.
Take in your considerations some of the crucial issues to be addressed before practical uses of smart contact lenses can be realized include:
The use of opaque electronic materials for sensors, integrated circuit (IC) chips, metal antennas, and interconnects that can block the user's vision.

The integration of the components of the electronic device on flat and plastic substrates, resulting in buckled deformations when transformed to the curved shape for lenses, which in turn creates foreign objects that can irritate the user's eyes and eyelids.

The rigid and brittle materials of the integrated electronic system, such as surface-mounted IC chips, which could damage the cornea or eyelid.

The requirement for expensive and bulky equipment for signal measurements, which limits the use of smart contact lenses outside of the clinical or laboratory setting by restricting the user's external activities.
Most of companies behind smart contact lenses are staying quiet about their work; but we know that applications include health monitoring, medical treatment for allergy and burns; invisible computing and enhancing vision. The future of optometry includes the utilization of smart contact lenses for allergy, glaucoma, AMD, OSD, and more.
And you never know, one day we can say welcome to the Smart eye contact lenses like smart phones, you never know.
You can read about:
The Best Days, Nights And Months In The World
Evolution Of Credit Card Technology
Credit Card History And Origin