Creative Christmas Tree In Small Spaces
Well, it's finally December! This means Christmas is on the doors. Let's get ready for the Christmas perfectly. So, decorating our houses is a great way to get ready for Christmas. Prepare your rooms, your children's rooms, kitchen , bathroom, your garden, garage, mailbox, widow , porch, door and backyard. Do you think you're done?
Don't forget the Christmas tree! Sparkle giant Christmas trees are always great choices . Nothing beats those big bushy branches of an authentic pine tree, beautifully adorned with fairy lights and Christmas decorations. Do you can use Christmas tree In small spaces?
Unfortunately most homes can't lend the space to such big, natural Christmas trees. Once you add all the presents gathered at the foot of the tree, and all of your friends and family members that will undoubtedly be gracing your home throughout the holiday season.
Many of us face the problem of lack of space, Although there exists an abundance of artificial Christmas trees in various shapes, sizes and colors to suit your home, have you considered designing your own creative Christmas tree?
There are plenty of creative Christmas tree ideas for small spaces to keep in theme with your own style of home decor without compromising too much space in your living room. You could even combine ideas for a unique Christmas tree that you can truly call your own. Think big when it comes to small spaces!
You can say that Creative Christmas Tree In Small Spaces are great ideas nowadays. Here are some great ideas of some small Christmas trees
Faux tree
You don't need green leaves to call it a tree, you can use some illuminated lamps and shape it like a tree. Use a plan white wall as a background to appear perfectly. Who needs the tree when you have the fairy lights? And the best thing about this is not only its stunning simplicity and the fact that you can put up a Christmas light tree anywhere in your home.
But you can customize it how you wish with different patterns filling the Christmas light tree or just running the fairy lights around the outline of a Christmas tree. You can even choose the light color to suit your color scheme and lighting. It's the right time to use some Creative Christmas Tree In Small Spaces.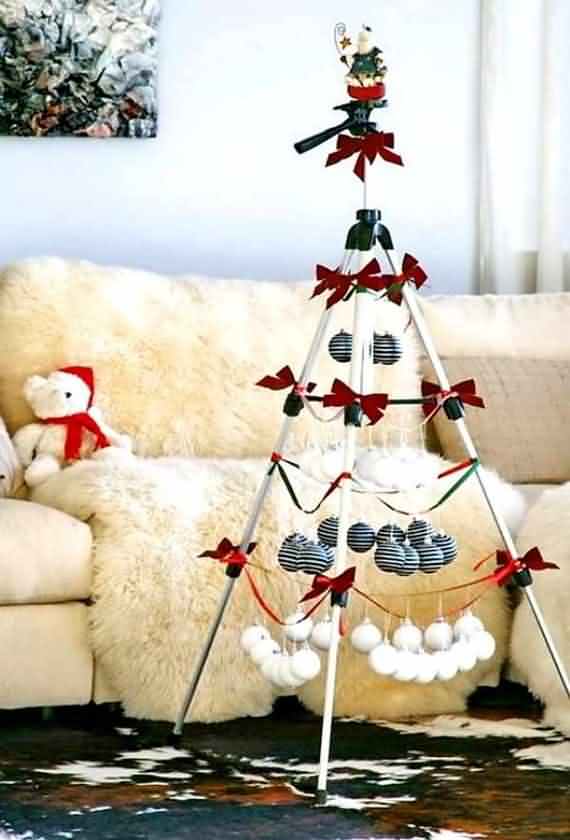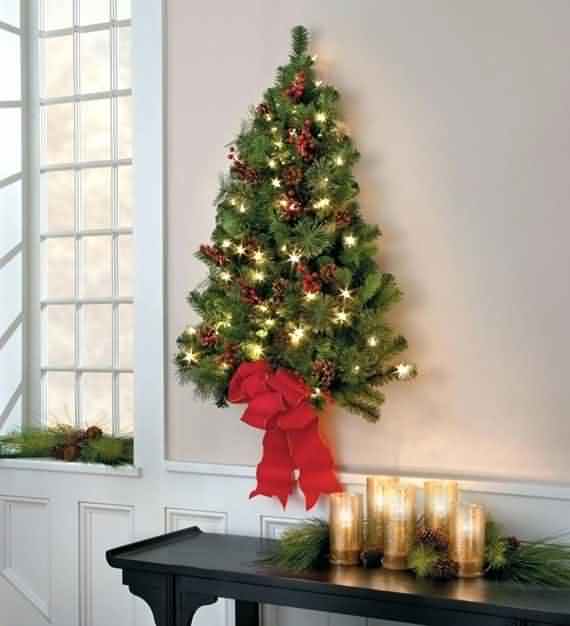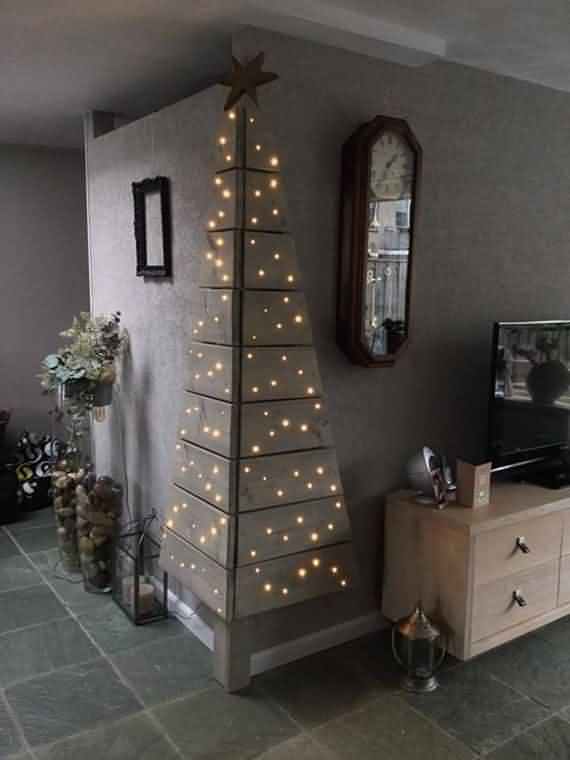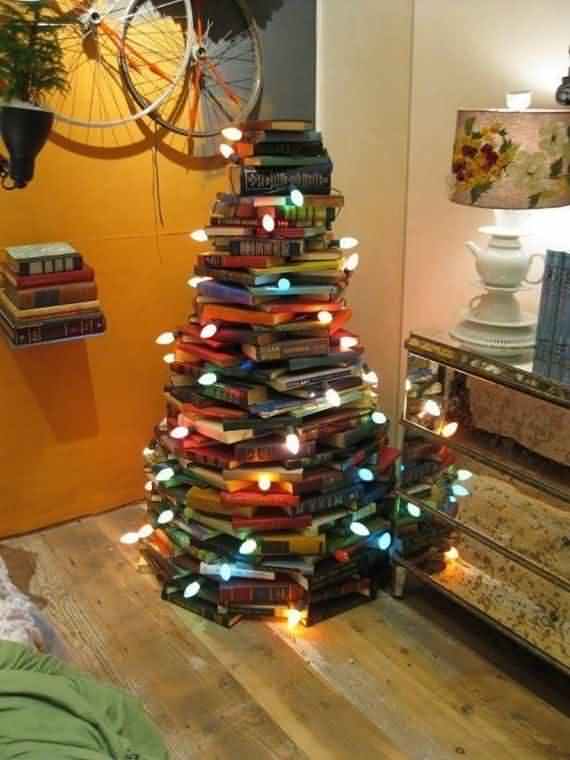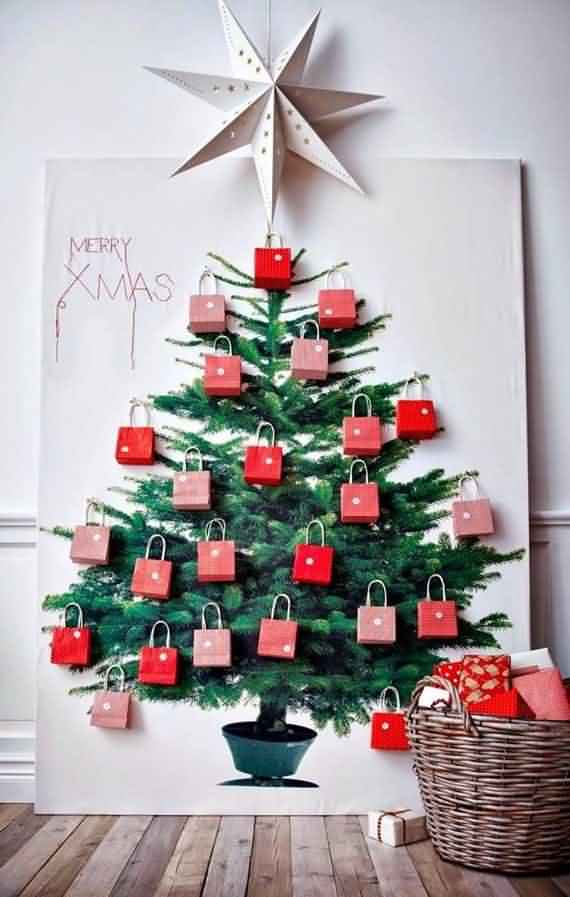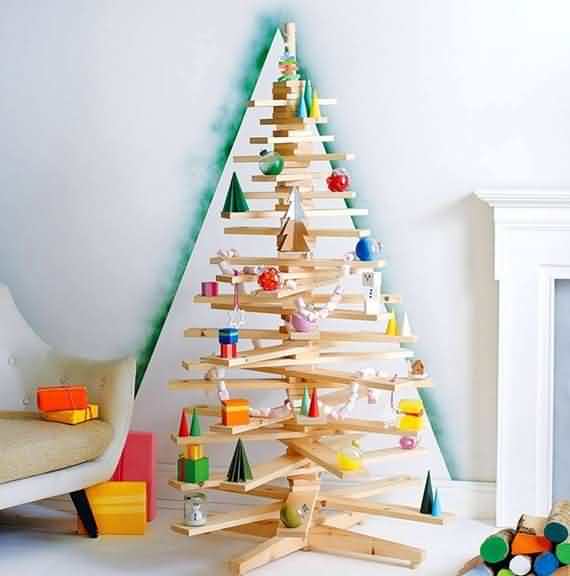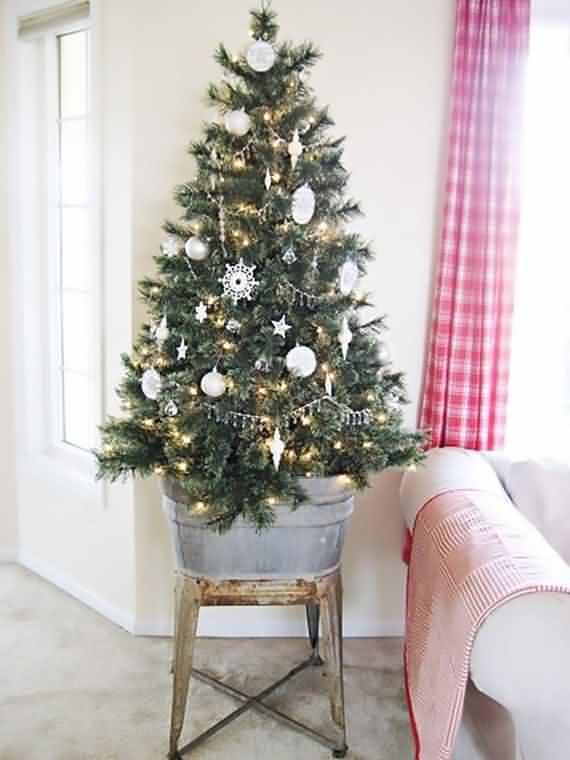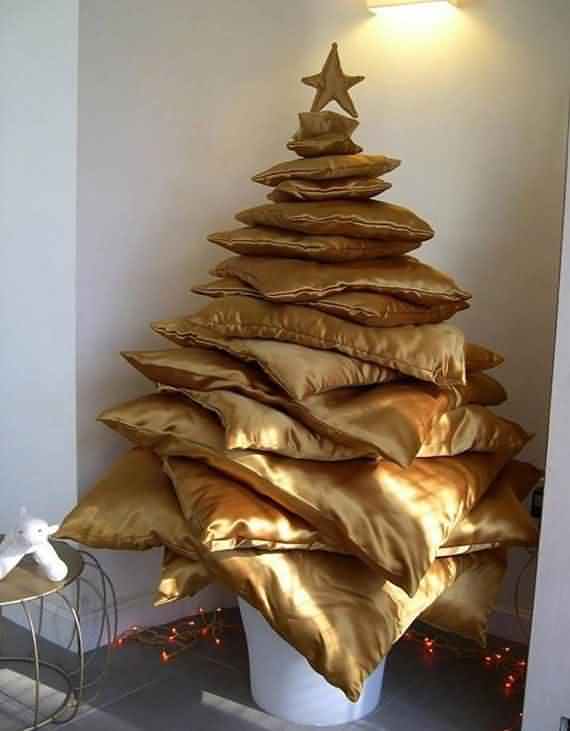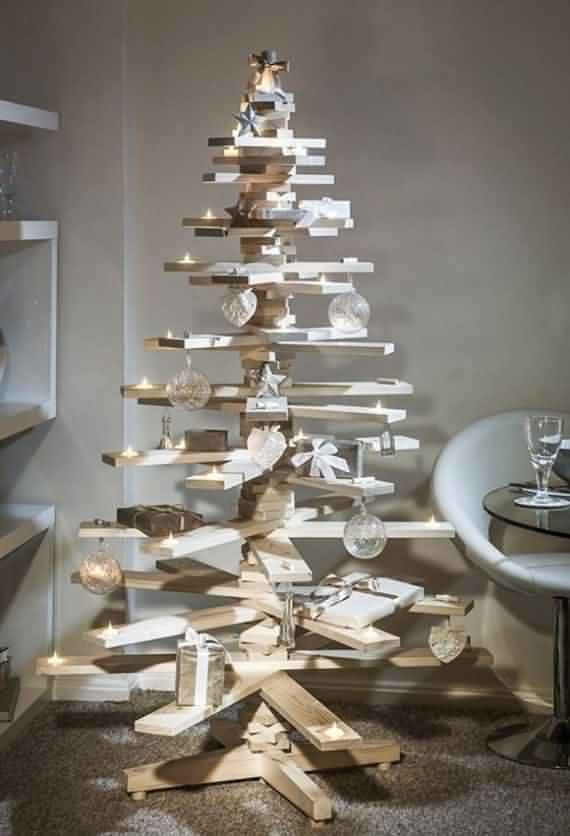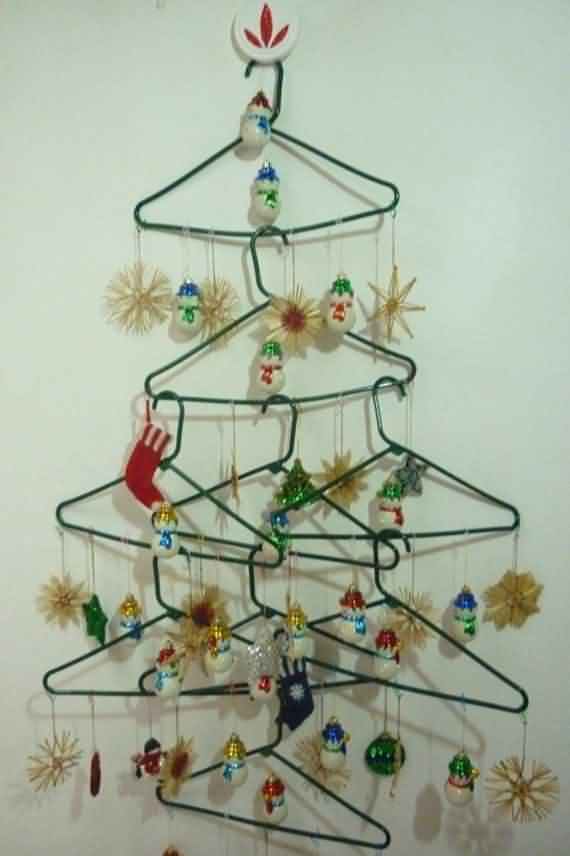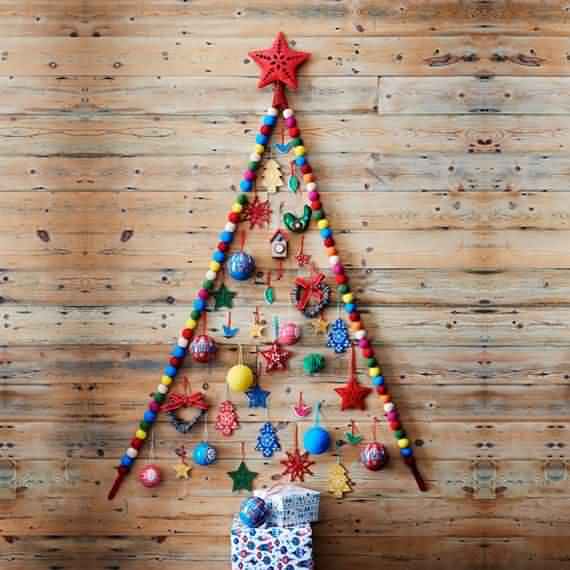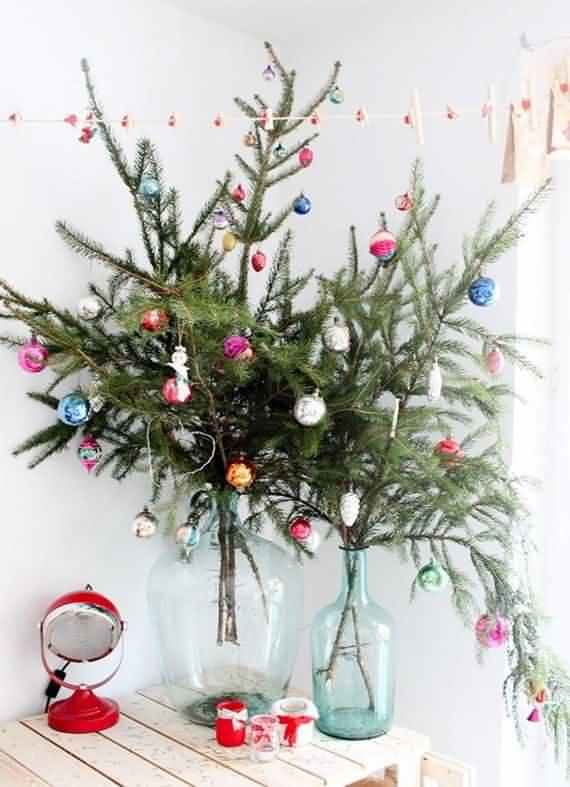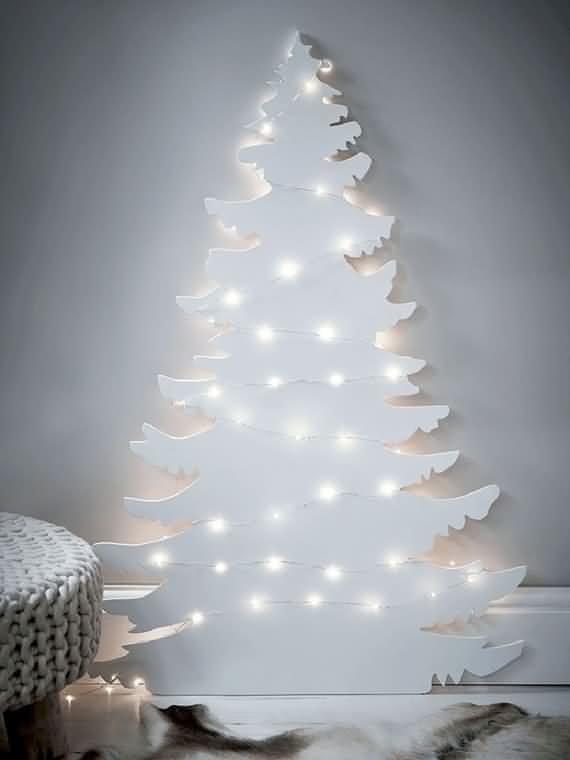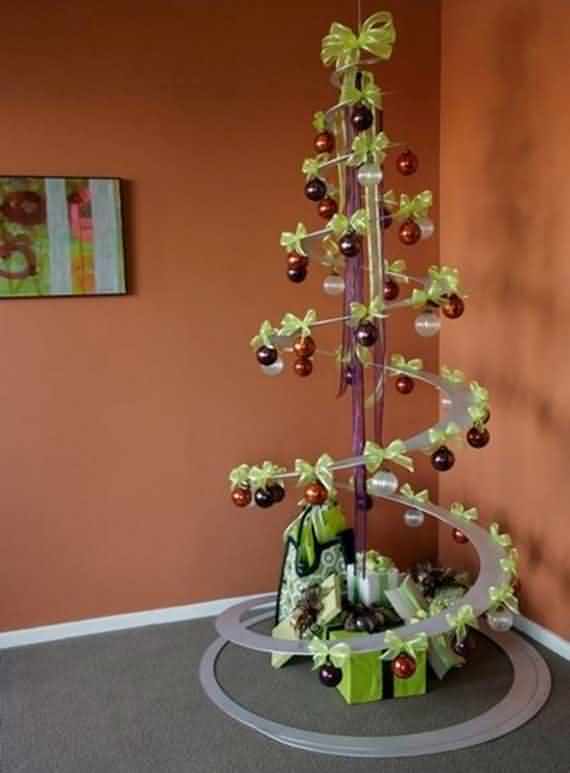 Christmas Tree In Small Spaces
Vase
Use a designed vase and a small sized Christmas tree to it making it appear perfectly. It can keep its natural glory and also fit in your small modern house just minimize it to fit on top of a coffee table or sideboard at home.
Perfect Christmas tree idea for a small space! You can use a branch from a pine tree, arrange it in a vase and then decorate it how you would usually, to keep it still looking a little like a traditional Christmas tree or use any tree branch you like the size and shape of.
It doesn't need to resemble a pine tree! You could even dust it with some fake snow and the result is guaranteed to be absolutely fabulous.
Painted
This idea is a little bit permanent. By the help of your children design your plan wall using colors. Draw a crafty Christmas tree on your wall. Christmas tree wall decals seem to be at the height of contemporary Christmas trendiness this season. Unlike wall hangings, Christmas tree wall decals can be applied directly to your wall, leaving a flat image that can fit your small space nicely without clashing with your wall paint or surrounding decor.
Woody
Design some wooden shelves and style them as a cute Christmas tree. Add to these shelves some of your favorite Christmas books, movies and photos. Add some of the Christmas words to make it more realistic. A few Christmas tree ornaments and Christmas decorations placed or hung on the shelving, and you can make your Christmas tree as personalized or themed to the rest of the room as you want.
Badges
This idea is the newest of them all. Get your favorite badges and photos from all around the world, place them on the shape of your favorite Christmas tree. This idea is the easiest yet the coolest one.
Stars
A simple grouping of white stars, especially above your television, is the best way to make your house ready for Christmas. The best thing is that it occupies a very small area.
Make a candle holder
If you're looking for the perfect opportunity to express your creativity, get crafty with a candle holder. Simply wrap your candles in garland and pinecones to create an eye catching holiday look that's sure to impress your guests. Enjoy and share some of these Creative Christmas Tree In Small Spaces.