Creative Halloween Wall Decorations
When you think of Halloween, costumes and candy are usually the first things that come to mind. But just like it's the one time of the year where you can dress up in your favorite homemade outfits, we think you should also get creative with DIY Halloween decorations for your home. The Creative Halloween Wall Decorations are easy and affordable.
Of course the designing of your wall is as important as your interior designing. With it you can ensure that every inch of your house looks unique—not to mention scary!
We need to take care of the in and outdoor decoration. The garden, mantel, rooms, costumes , trick or treaters, Including these stuff the wall decoration. If you have a cute yet scary wall in Halloween season, then congrats you have won the best Halloween decoration award. So here are some unique ideas for wall decoration in Halloween season. I bet you will like one of these Creative Halloween Wall Decorations ideas.
Red!!
Of course the first thing that comes to your mind when saying red in Halloween season is blood. In this idea use some red paint that looks like blood and just throw them on your walls for a great view. Add a white twist tie through a set of plastic vampire teeth for more effect. Ps, don't never ever use real blood…lol.
Bones
For this one use old dolls, fake bones and some plastic body parts. Place them on a creepy Halloween wall paper in a messy way. I guarantee you a perfect Halloween wall with the cheapest way.
Bats Printing
Print some black bats on your wall. This idea is a classic yet easy one. You won't want to dust away these Halloween cobwebs. Just add some more plastic spiders and you will have a Halloween piece of art. Easily craft these larger-than-life spiders for a fun Halloween craft that'll spook up your home.
BOOH!
Inexpensive paper party bunting, colorful card stock and double-sided tape are all you need to turn an interior wall or door into a menacing monster. Best of all, you can make your beastie as large or small as you'd like and it's a snap to make this denizen disappear when Halloween's over. Break out the Christmas string lights a little early this year, then give them a spectacular Halloween makeover with ping pong balls and a little craft paint.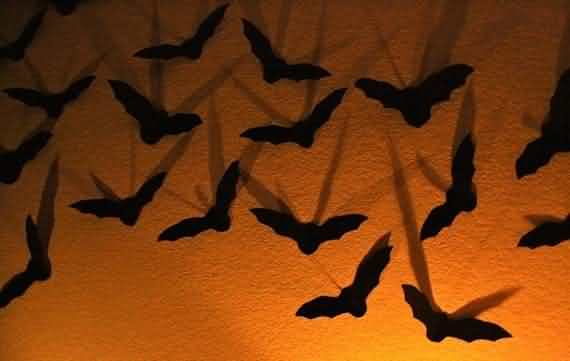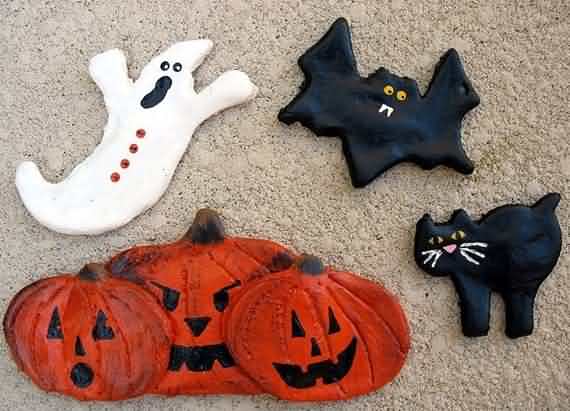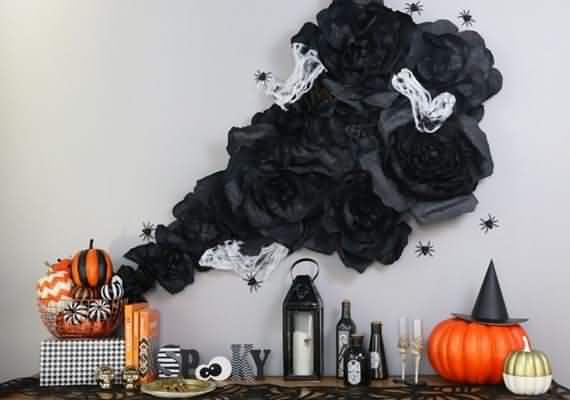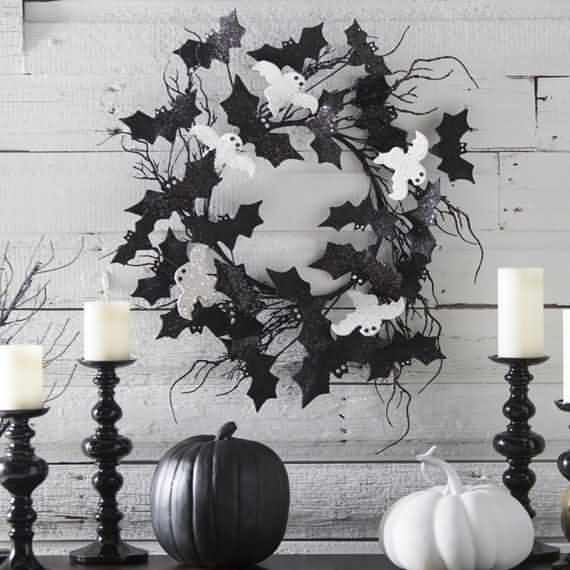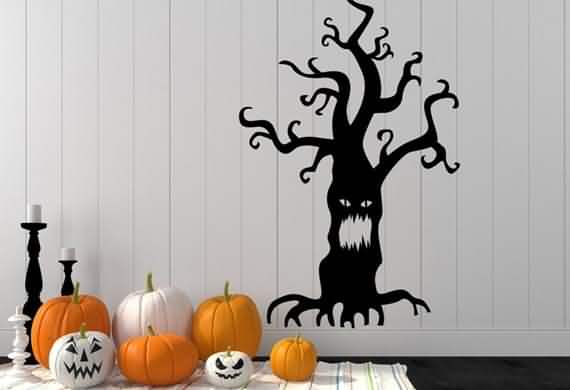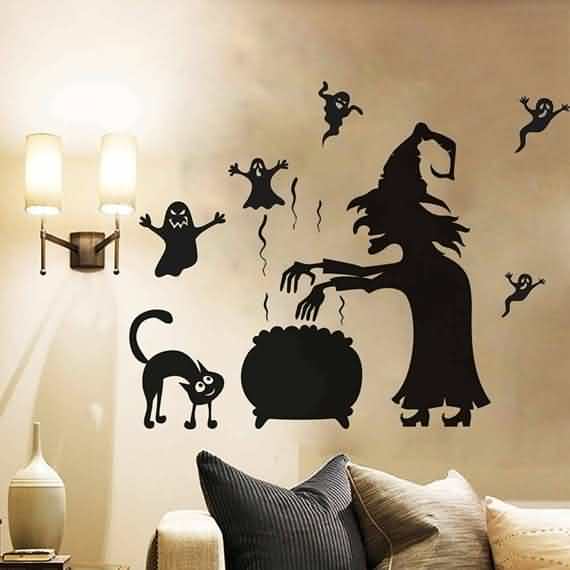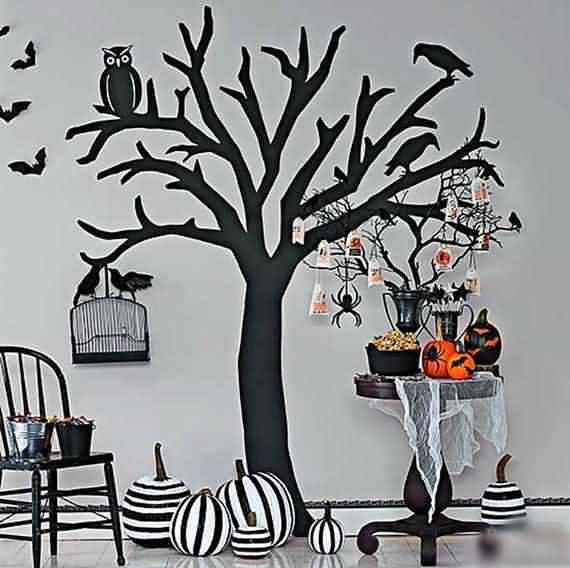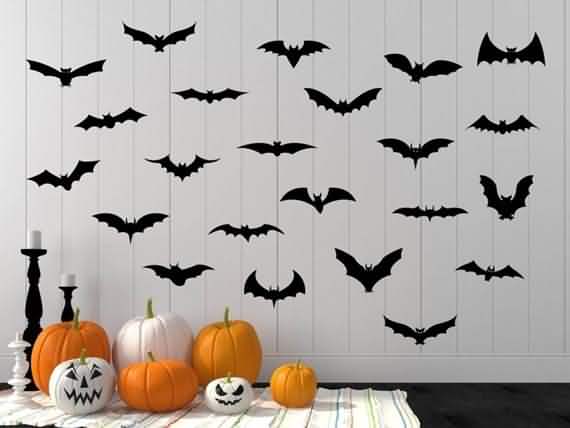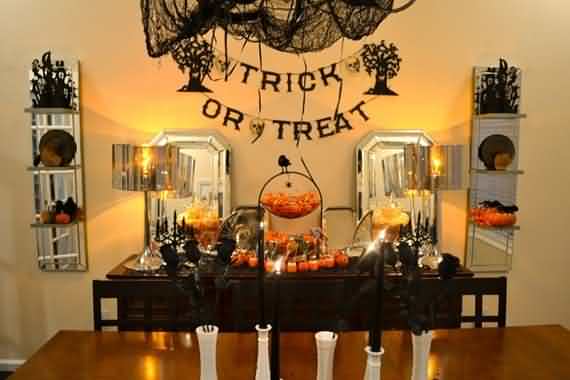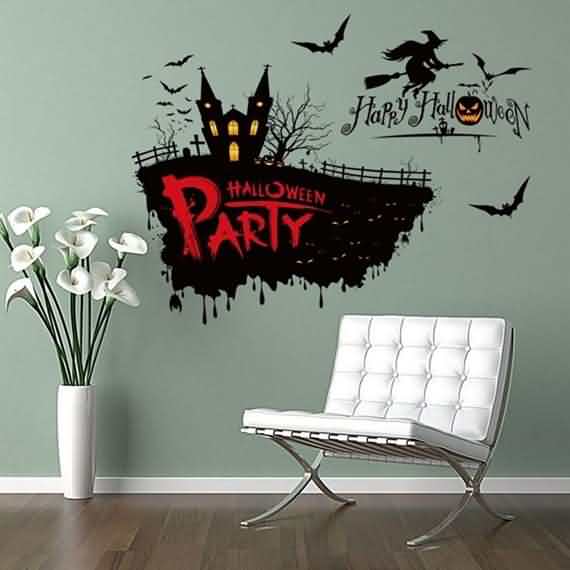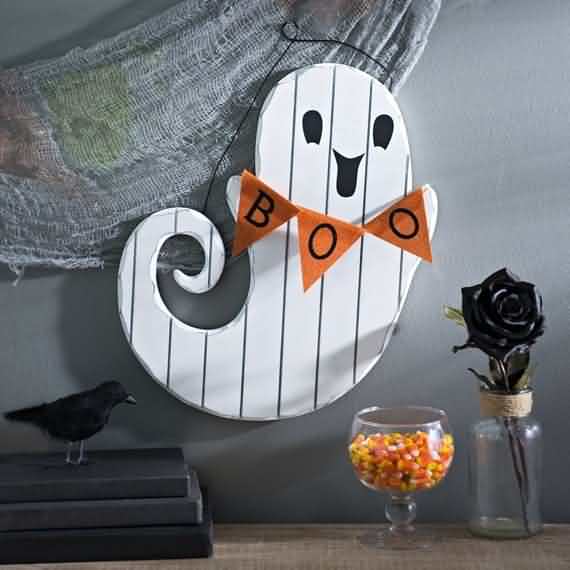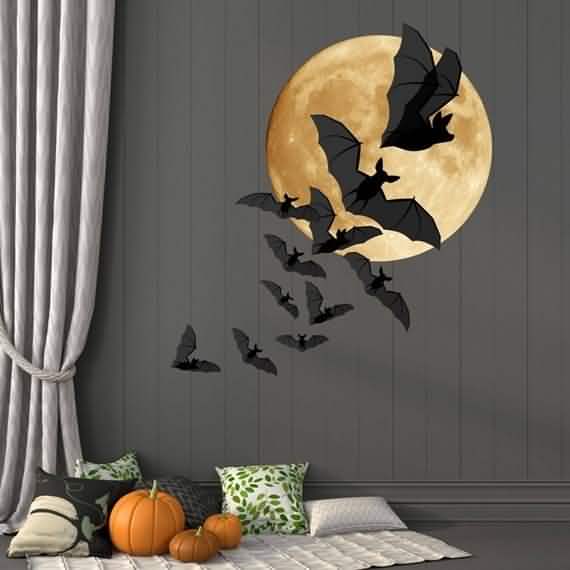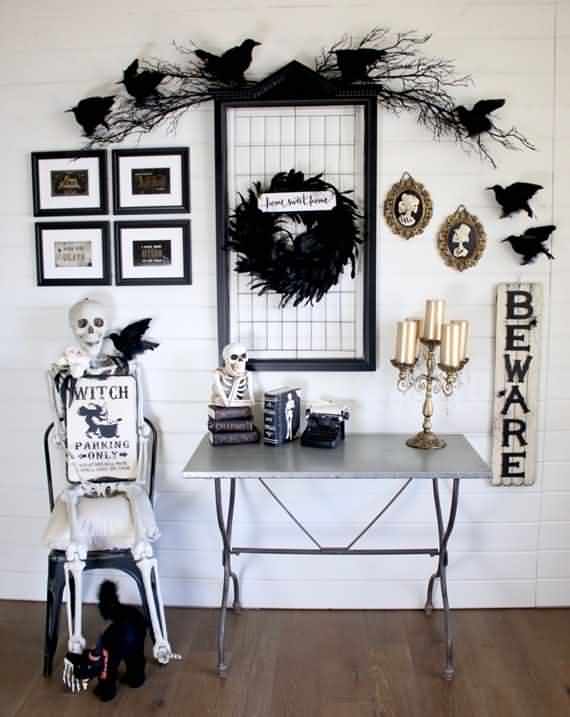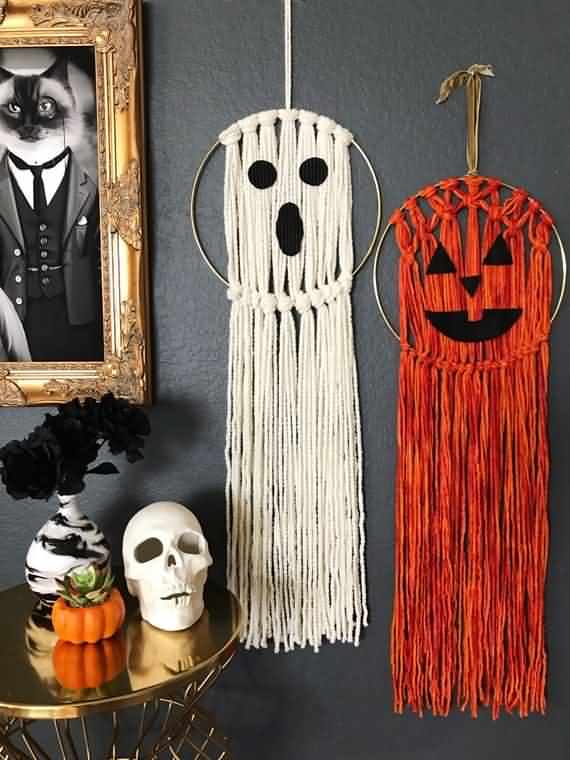 Try one of these Creative Halloween Wall Decorations
Pumpkins
Print some different sized of pumpkins on your black wall. You can add other decorating items to it to make it cuter.
Black Cats
Turn a sheet of plywood into these simple cat silhouettes that keep a baleful eye on Halloween visitors with glowing eyes created by backing moon-shaped cut-outs with small, battery-powered lights. Ps, you can use luminous paint for this one.
HELP Banner!
Add some scary and creative words on your plan wall, as a red fonted "help" or any of the Halloween common sayings. Using paint chips in shades of yellow and orange, you can knock out these cheap DIY Halloween decorations. Whether you choose to add funny sayings or be seriously with traditional designs.
MUMMY!
Tape paper streamers to the wall, overlapping the strips to give a wrapped look. Then, cut sheets of black and white construction paper into circles to make eyes. Place the eyes on the top of the wall and tape to secure. Rainbow, sculls; Place a lot of colored sculls on your white background, showing of your scary yet cute decoration. You can also let your kids help you in this idea by letting them craft and color these sculls and share in the Halloween decoration.
Safely Light Up the Night
Make it easy for trick-or-treaters for Halloween party guests to find their way to your house by lighting the walls with hanging solar lamps, strands of bistro lights or candle-filled lanterns.
Paper Ghosts
Let your kids craft some little paper ghosts, then stick them on your black wall. The more paper ghosts you cut, the cuter it looks.
Haunted Mirror
Transform a thirsted modern mirror into a centuries-old looking glass with our tips. Select a mirror in an ornate frame, as we have, to boost the haunted house vibes. Add it to your wall because what's creepier than a house full of mirrors. The best thing in Creative Halloween Wall Decorations you can do it at no time
Finally don't forget to share these ideas about Creative Halloween Wall Decorations with your family and friends before Halloween…. lol.