Tips To Set Your Halloween Table
Halloween is here and with Halloween season coming the family and friends all gather to make some creepy decorations and stuff like that. Whether you're hosting an elaborate Halloween party or just want to decorate your Halloween table for the season, the pressure's on to make your house haunted without all the cheap thrills and gore. Halloween table decoration and center piece are very important for your Halloween decoration. So here are some tips for your table decoration for Halloween
Halloween Tablecloth
Decorate your table with Halloween spirit by setting it with a Halloween fabric tablecloth! The shiny orange tablecloth features Halloween-themed designs and phrases such as "Trick or Treat," "Wicked Witch," and more and makes a great addition to the rest of your Halloween decorations. Pair this Halloween fabric tablecloth with other Halloween-themed table decorations for your Halloween party!
Create more layers for your table
First of all try to cover your table with a drop cloth that has the shiny side facing up to give it a metallic glimmer, then add another layer of lace fabric used as a second tablecloth, this black lace can add a mysterious combination of elegance and malice to your Halloween decor. this lace can act as a spider web then attach some clusters of paper bats or plastic spiders to your lace.
Patterns
Start your Halloween decorating by clearing and putting away all other decorations so you'll have a clean palette to work with. Then choose any gray plates and glossy black goblets to break up the patterns; and adds a reflective element to the table, adding a spooky look. You can feel free to add any skulls or pumpkins or any other spooky elements.
Halloween Lantern
Halloween lanterns are usually made from tin and have a handle so that they can hang from a shepherds hook, tree branch or eave. But nowadays you can find it from plastic too. They can be illuminated with a tealight or candle for a glow that illuminates from the cut out portions of the lantern. Lanterns are so much more festive now; taking on the face or figure of many of the iconic Halloween figures; including pumpkins, ghosts, black cats, witch faces, skeletons; or just a classically shaped lantern with images on vellum that glows with the light from within; and for sure you can sit it on your table too.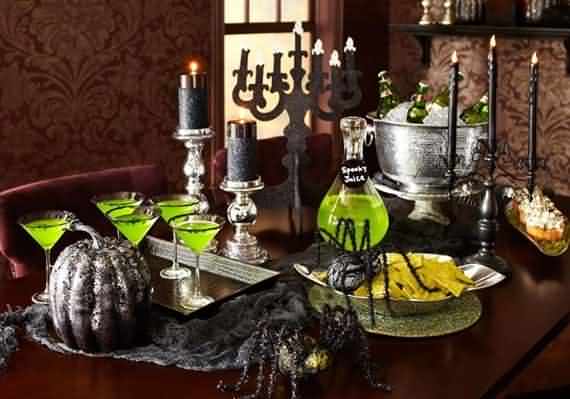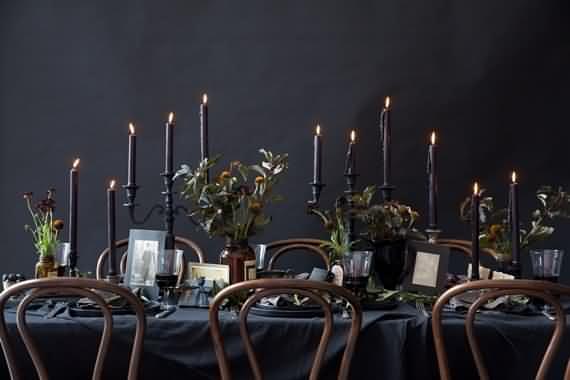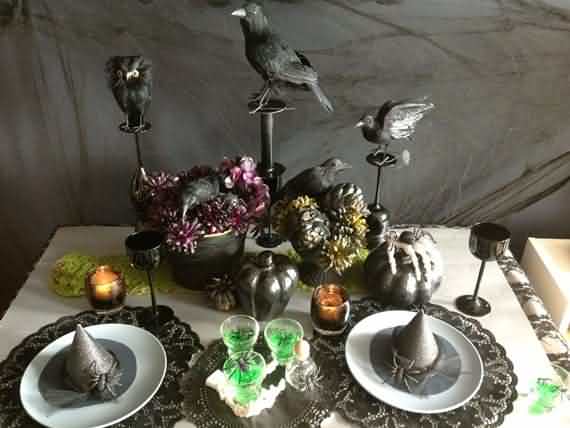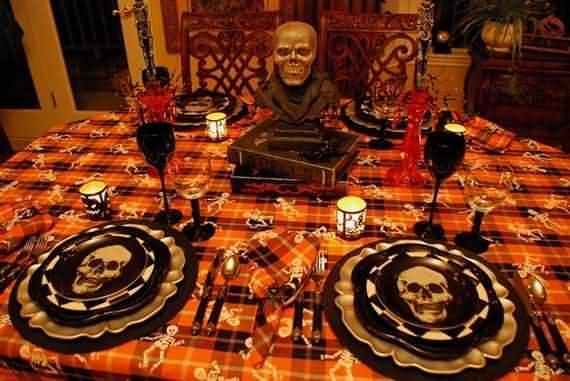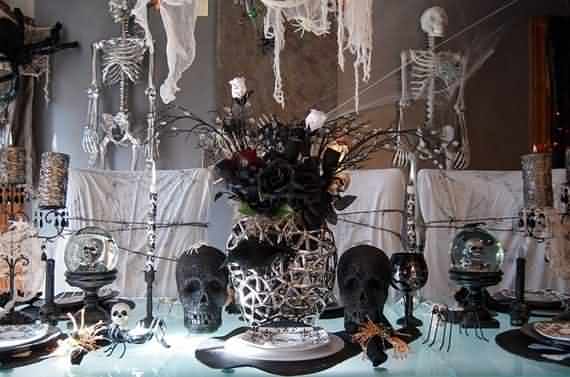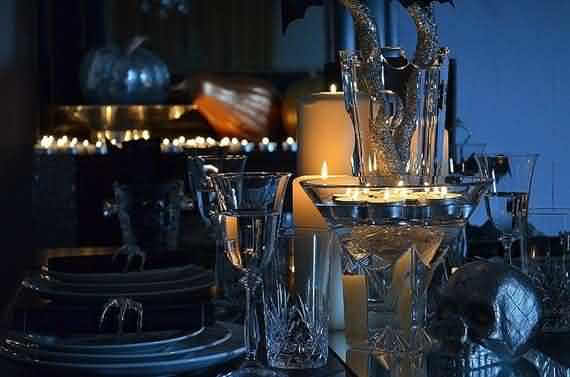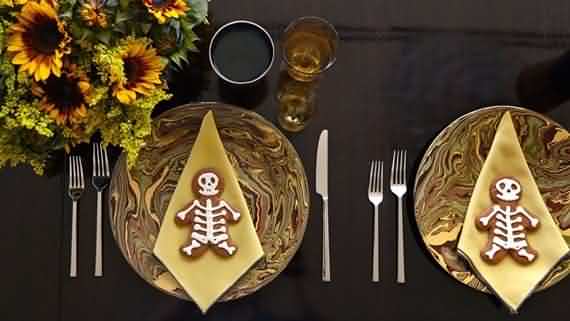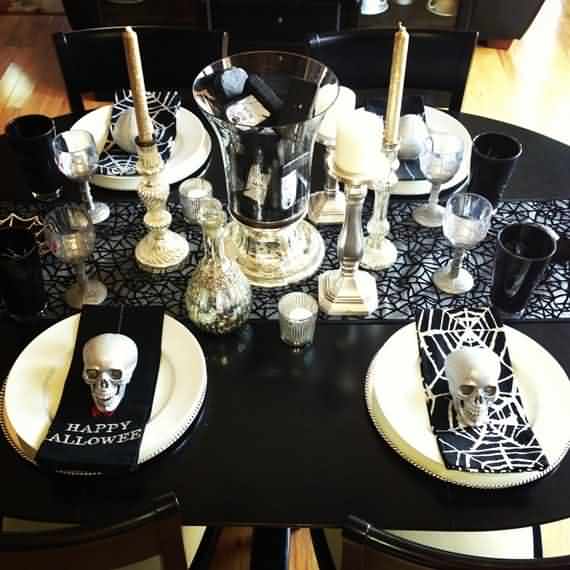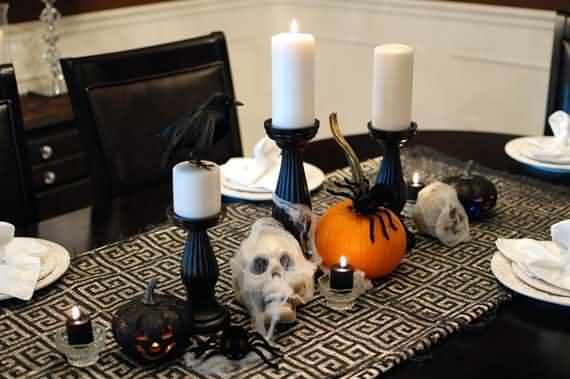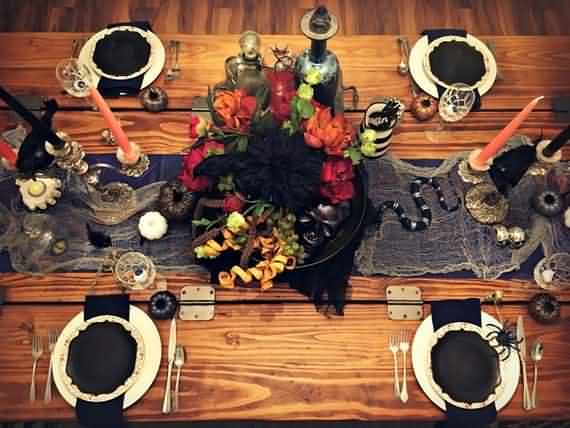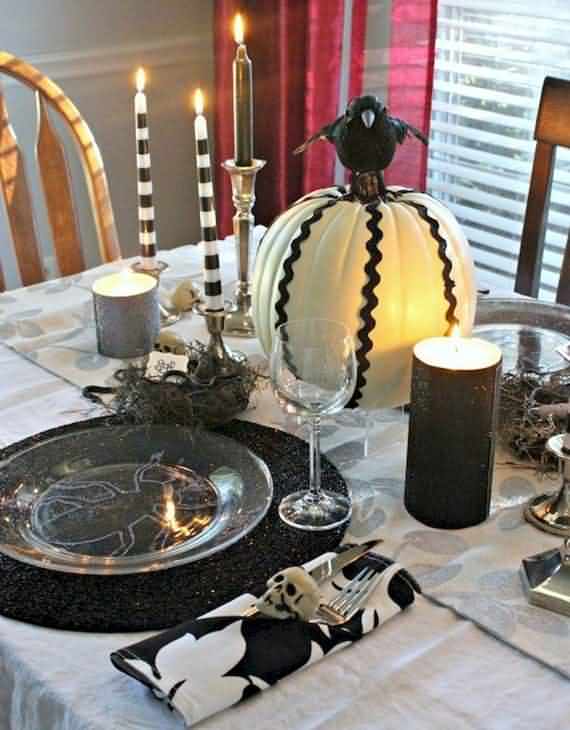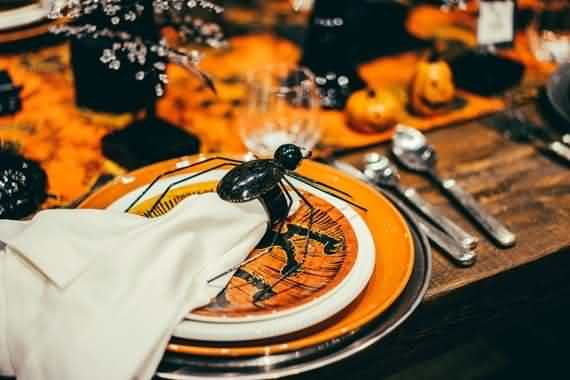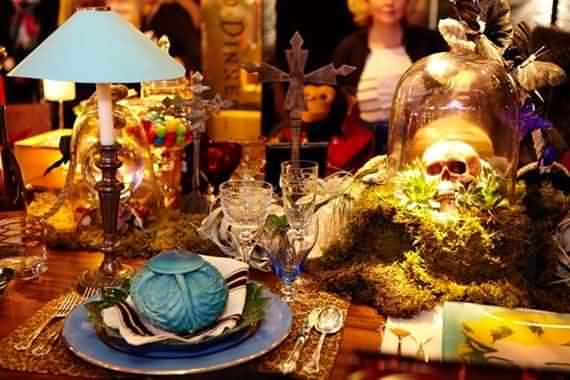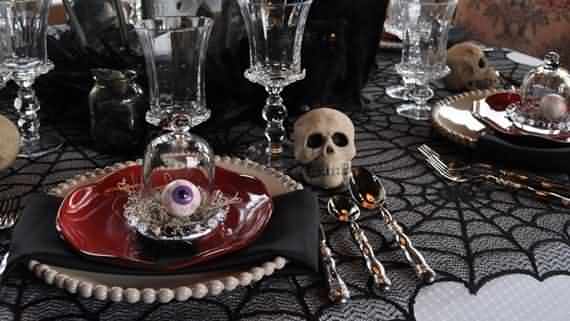 More Tips To Set Your Halloween Table
Spooky candles and Halloween candles holders
Glowing candles bring drama to the table. Make your own motives by wrapping clear plastic cups with black lace ribbon and arranging them around the table, under or behind objects you want to highlight. and for sure don't forget to choose some creepy Halloween candles holders.
Chocolate apple cat faces
Decorate these apples with chocolate sprinkles, banana-shaped candies, and heart-shaped candies to make these adorable kitty candy apples for you Halloween.
Candy apples with gummy or jelly in worms shapes
Get some edible jelly in worms shapes or some gummy worms then invite the kids to help you when prepping these candy apples by letting dip them in the praline topping.
Black Witches' Hats
The simplest (and most basic) version of a witch hat; you can't go wrong with this pointy silhouette and sheen. to add texture, a piece of black tulle is tied around the base of the crown and secured with a bow. And for adding s creepy look a black plastic spider secured with a dab of glue completes the hat.
Table Centerpiece
Skulls , crows, skeletons and owls you can add them to the arrangement along with gourds and some dried vegetables. To add height to the table, a few of the animals you can place it behind the vase on painted spools, candlesticks or upside-down old bottles painted in black color.
Pumpkin Carving Table
Carving pumpkins is one of the most interactive Halloween activities, so throw your own party filled with delicious treats and whimsical decor.
Ghost Cupcakes
Halloween food doesn't have to be ugly. Try to pick up some cute ghost cupcakes that will be great for younger kids' Halloween parties.
Halloween Tableware
Prepare for the party with Halloween-themed paper plates, cups, table covers & more. No matter what idea you have in mind, here you'll find the Halloween table decorations for it.
Halloween creepy surprise
Learn how you can use boxes, paper bags , ordinary household items; and a great imagination to make this fun Halloween or classroom party game.
Additional Arrangements
add whatever you want to make you party looks great; such as a silver or gold chalices are filled with silk flowers; dried artichokes that were spray painted-black; and a few glittery spiders. Now you know hot to Tips To Set Your Halloween Table.