Easy Christmas Bathroom Decor Accessories Part 2
Have you ever thought that a bathroom can be a decorative place for Christmas ? If not, you came to the right place… all you may need just take a look at these easy Christmas bathroom decor accessories.
It's the right time for decorating your bathroom, if you have just one bathroom or you have more than one bathroom (one especially for you and another one for your guests ) it is a great way to make your home a welcoming oasis for out-of-town visitors at your Christmas holidays.
Christmas candles for your bathroom decor
Candles are the most popular essential decor element in any empty space in your house. it can easily add a Christmas holiday glow and the effect of chariness for any space if even your space is very little. Plus Candles themes always create a warm ambient glow and bring the magical and the traditional atmospheres to your Christmas holiday night. Also Candles with scents or scented candles can spread its lovely scents in every part of your bathroom and transform your bath into a great paradise.
Toiletries under the name of Santa Claus
These great and lovely Santa Claus toiletries would spread the Christmas cheer in your house. You may love the idea of using the sack as a toothbrush and toothpaste holder.
Christmas Toilet Covers
To really get into the Christmas mood, of course, you also decorate every part in your house. So why not decorate the bathroom this year, you can do that easily with the Christmas toilet seat cover.
It's very easy accessory that you can adjust it by yourself without any effort from you or even creativity from you. All you need to choose the right one for your bathroom theme and that's it.
You may find the Christmas bathroom toilet seats come mainly in the traditional red, green colors and have different shapes like Santa on them or a snowman or a reindeer. They give a finishing touch to your bathroom decor. Check out these Easy Christmas Bathroom Decor Accessories Part 2.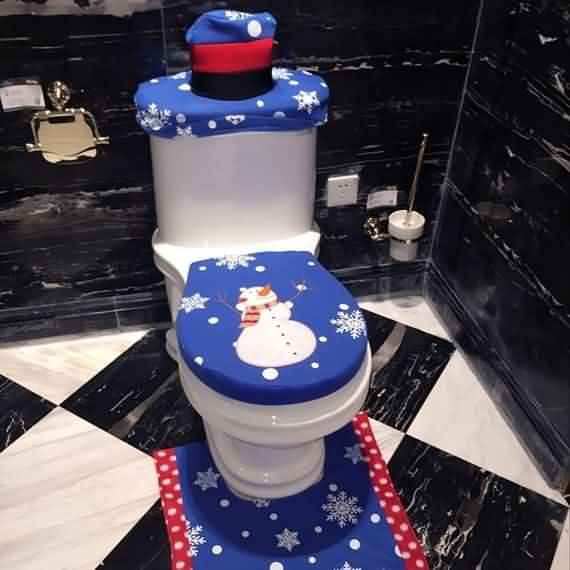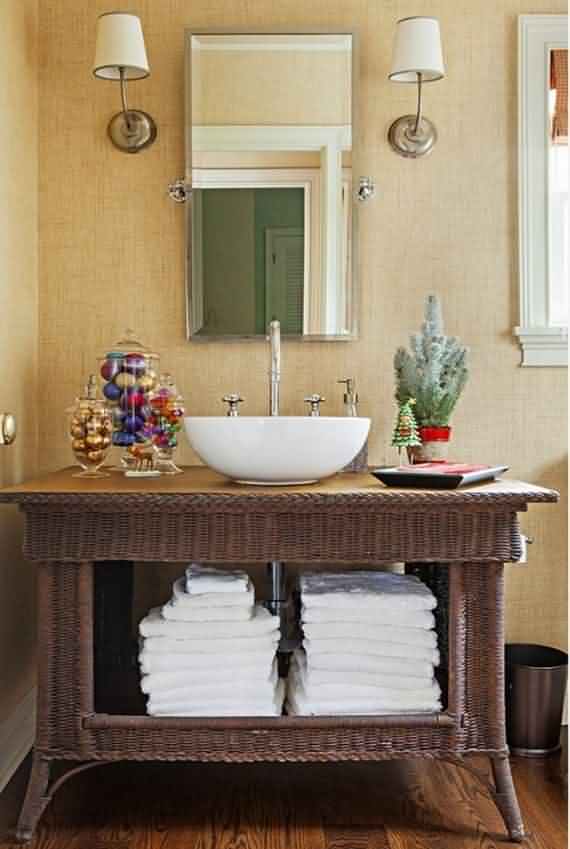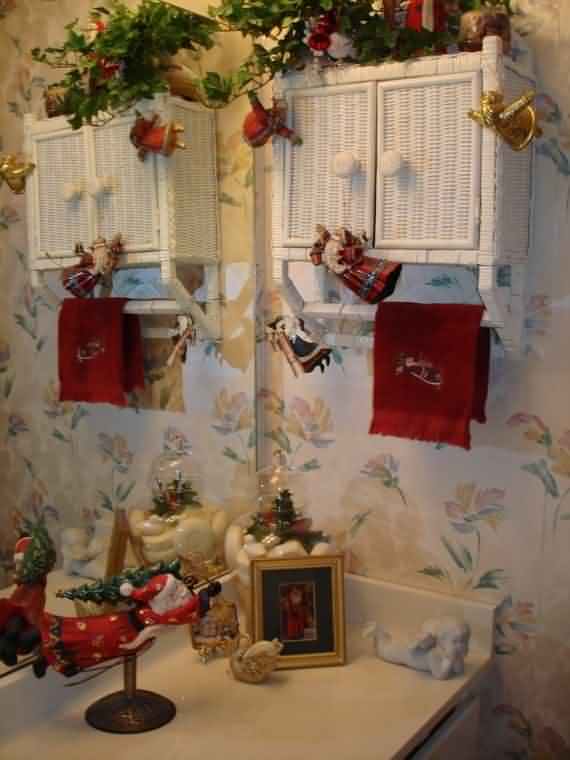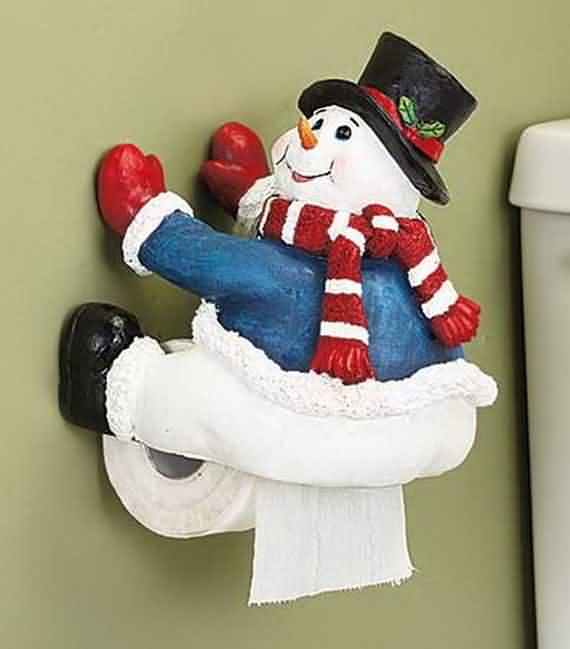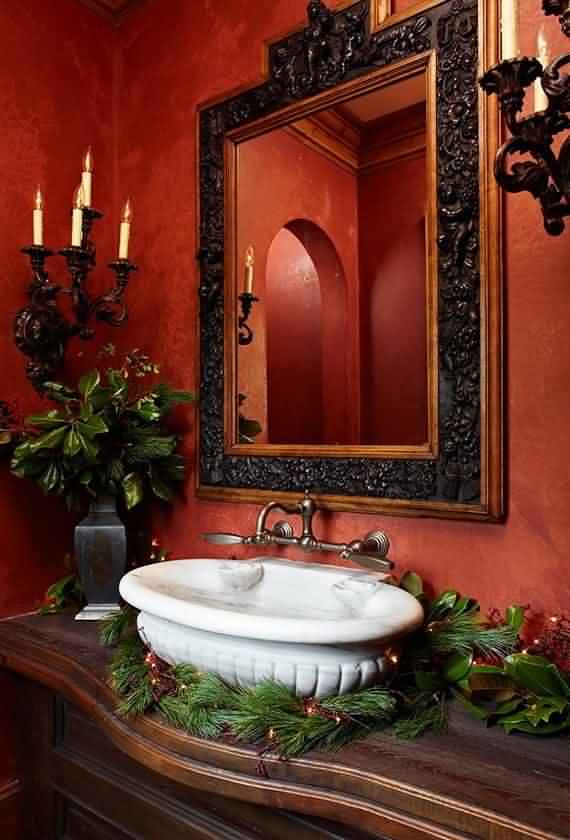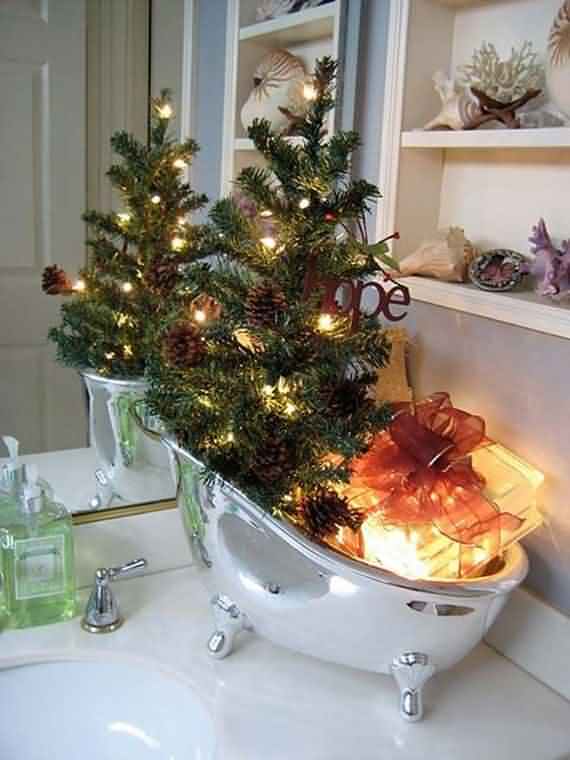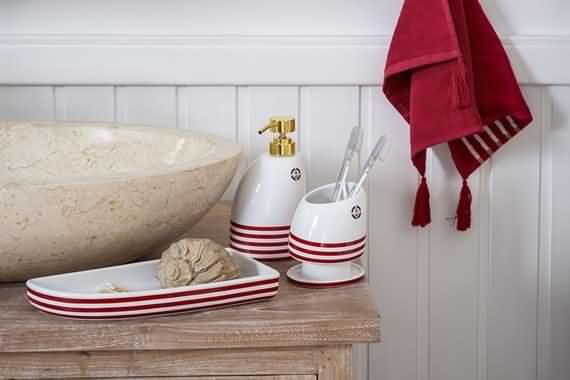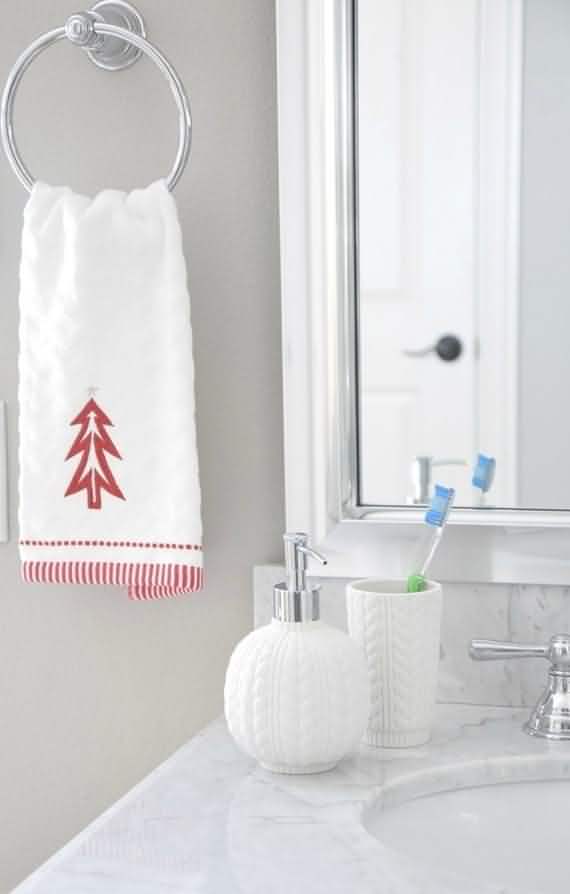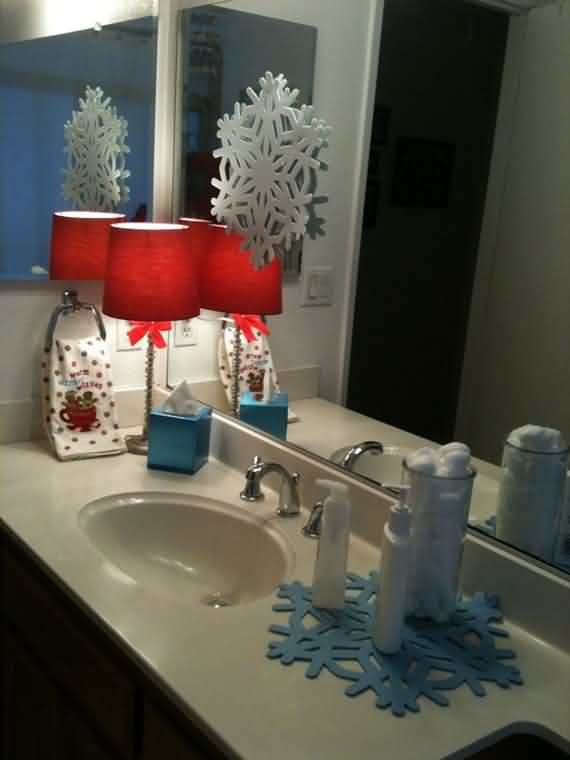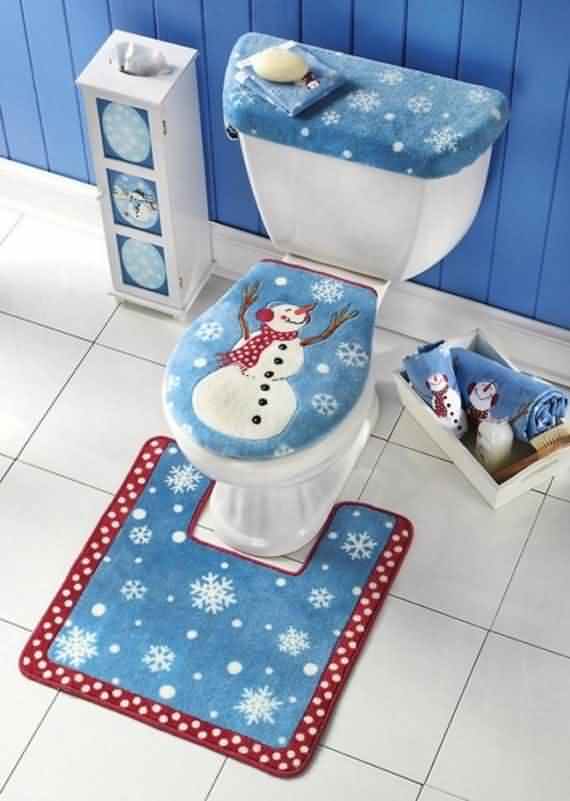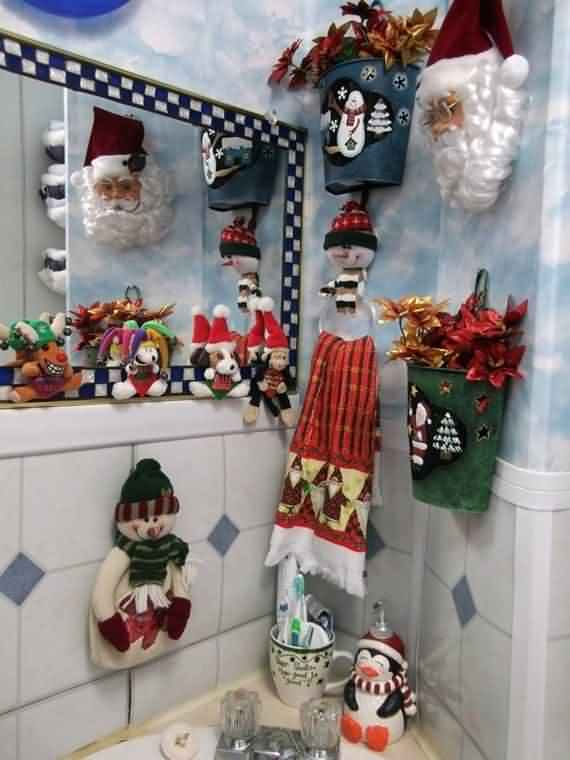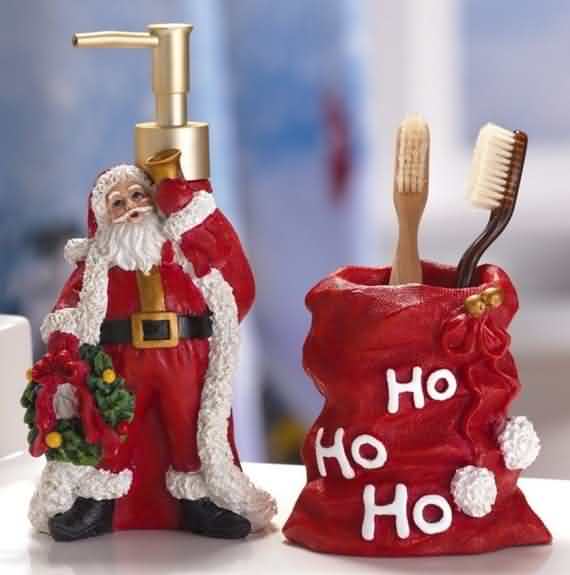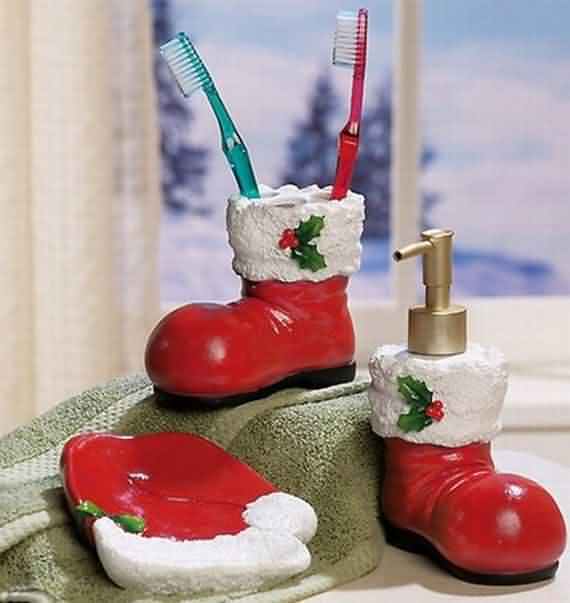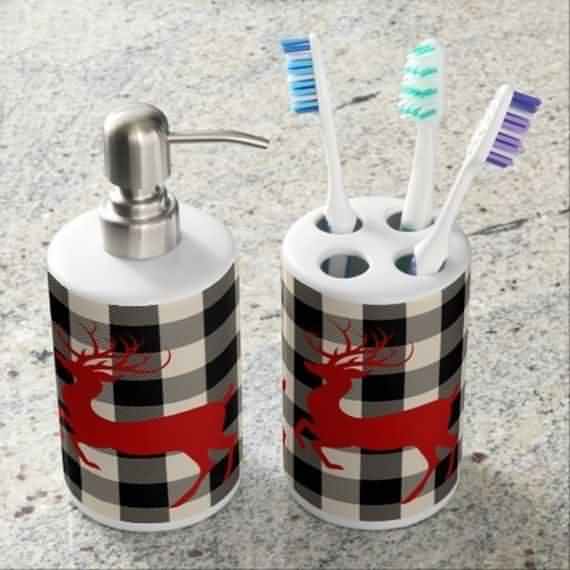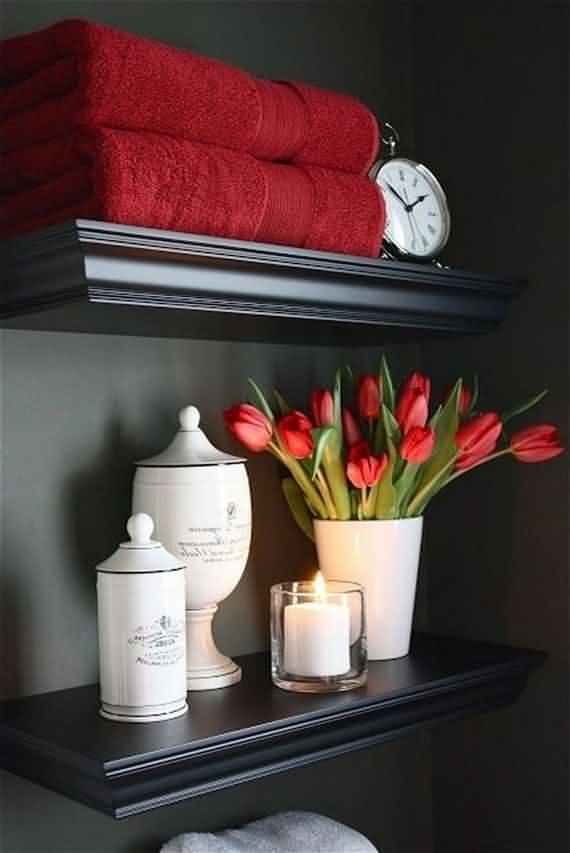 Easy Christmas Bathroom Decor Accessories Part 2
Adding Christmas signs, evergreen garlands, and sprigs on your bathroom mirror
Bathroom mirror is the centerpiece of your bathroom; so feel free to add any good Christmas signs, evergreen garlands, sprigs; and a lot of more cool accessories on your bathroom mirror. It will totally change the look for your bathroom once you add them.
Add Christmas Bath Towel
Make your bath time more pleasurable this Christmas year and every coming years by stocking up on Christmas bath towels, hand towels, and washcloths in your own bathroom. Your Christmas bath towels come with all the fabulous Christmas colors and its lovely themes.
Spread some pine cone for Christmas in your bath
Decorate your bathroom this season with one of our pine cone crafts! These easy Christmas decorations and ornament ideas using pine cones will give your bathroom new joyful look for your Christmas.
Christmas bathroom paper tissues
Holiday decorating isn't complete till you've added Christmas Toilet Paper! You can choose between the humorous and the Christmas traditional toilet paper , holiday bathroom tissue will be a great addition to your washroom's crappy decor.
Snowman Holiday Paper Towel Holder
here's a fabulous, snowman paper towel holder to dress up your bathroom paper towels . It appears as if the snowman is giving support to the toilet paper roll. And there's a snowflake at the top as well.
Vintage Look
Getting a vintage Christmas decorations for your bathroom will gives you something more memorable. Those decors should be something unique, elegant and stylish. Vintage is something already old but not an antique.
Dress Your Walls Up
Even though wallpaper can be costly and time-consuming, the payoff is definitely worth it. Really it's a bargain. To make the most of your budget, opt for just an accent wall or ceiling to curb costs.
Be sure to give your bathroom the seasonal treatment and surprise all of your families, friends and guests with one of our easy Christmas bathroom decor accessories.