How To Set Your Fall Table
Fall is here, and that means you're probably hosting at least one festive dinner party soon. The best way to set the scene!! A killer fall tablescape; complete with seasonal centerpieces and place settings. But you don't have to buy all new tableware to make it feel autumn-appropriate-we've got you covered with plenty of creative ideas to decorate your fall table for dinner parties both big and small. It's actually fall that provides the most opportunity to celebrate. If you're looking to throw a party (or two!), one of the most crucial steps is setting the table. No basic flatware and classic silverware strategy here. Here are some ideas to set your table for fall:
Decorate With Jewel Tones
This table setting features the fall colors like red and purple, but then it also introduces splashes of blue, green, and pink for a unique spin. The gold flatware is the perfect finishing touch.
Set a Rustic Spread
An early fall al fresco dinner party is the perfect way to transition to the new season. Plus, it's always a good call to take it outside and enjoy the weather while you still can. And instead of flowers, use large candles and fall fruits like pears to animate the table.
Go Blue
A rich, blue tablecloth helps neutral plates pop. Add fresh flowers for even more color and stuck to an earthy palette with your plating and napkins to even it out.
Play With Pattern
Granted, all of this pattern would be overkill if the tablecloth, napkins, and plates were different colors, but if you keep everything in the same color family, it can actually work beautifully. Plus, opposites attract, so the orange and blue contrast is color theory perfection.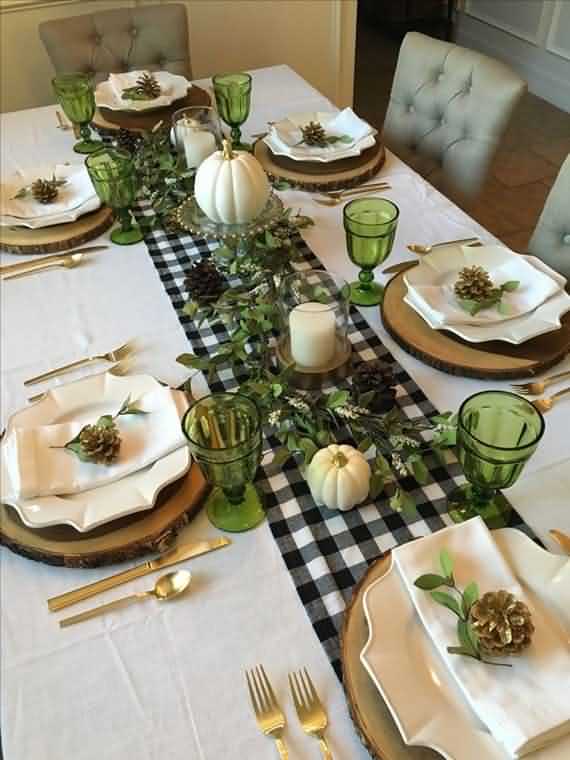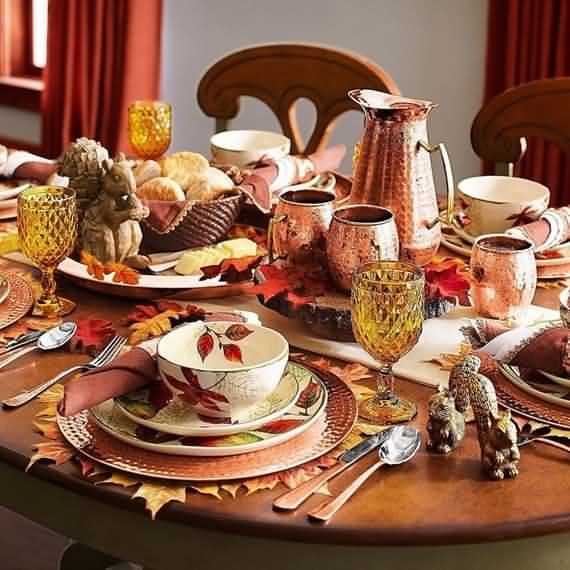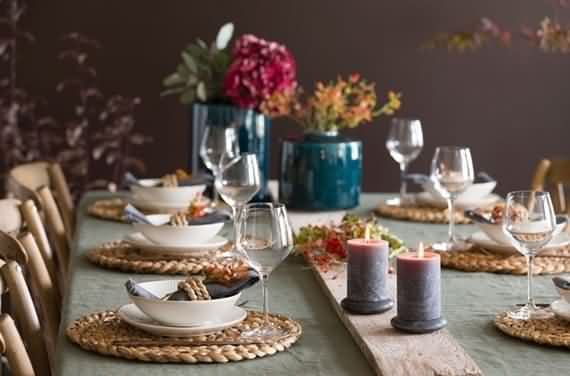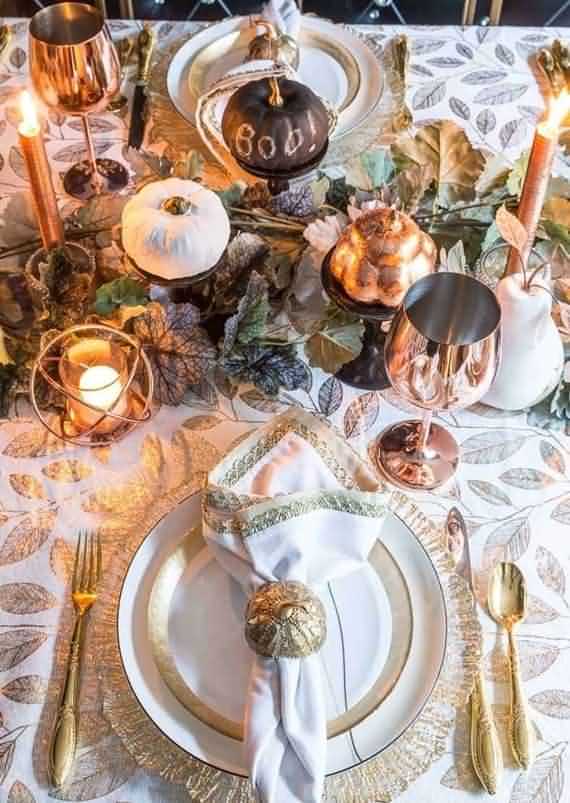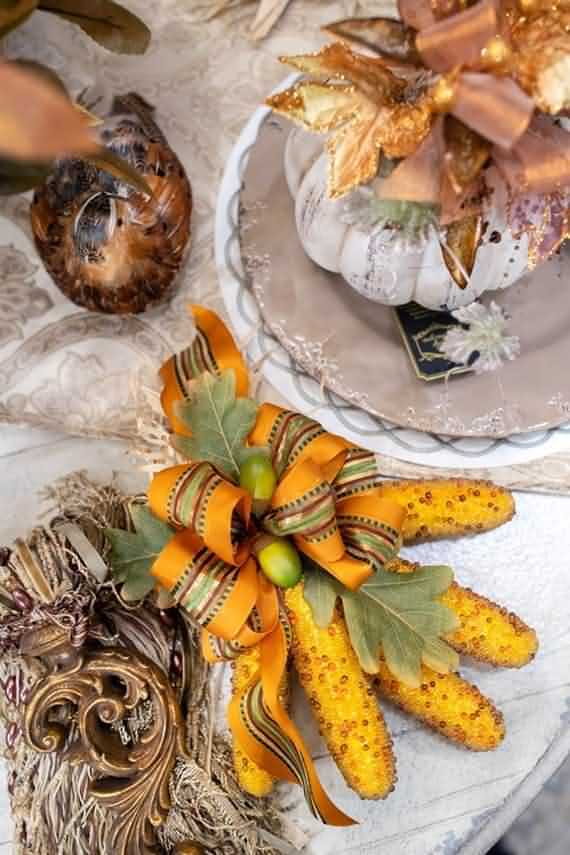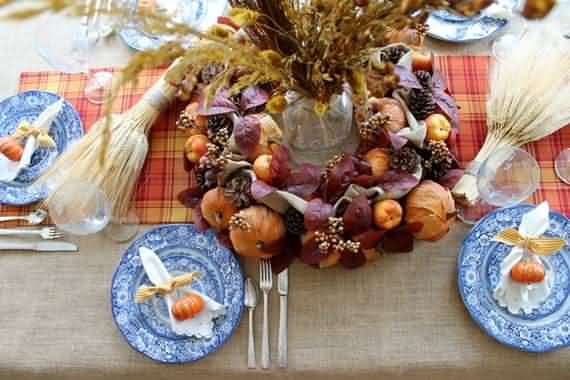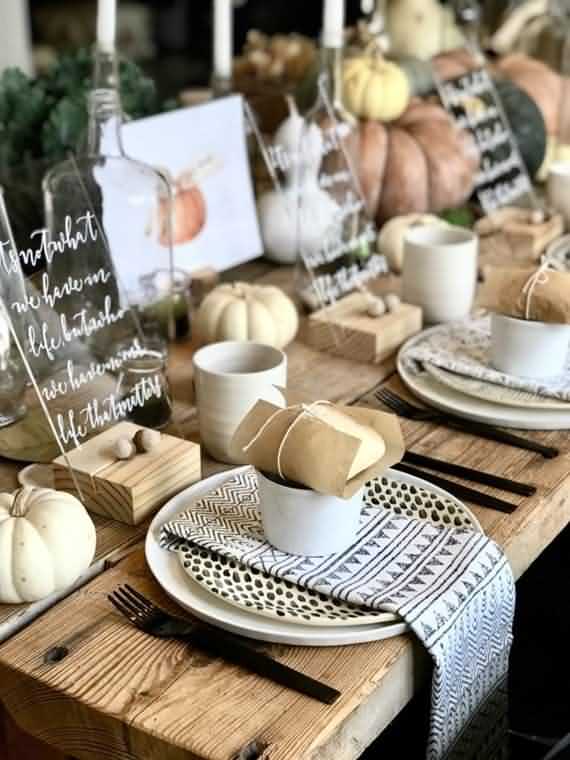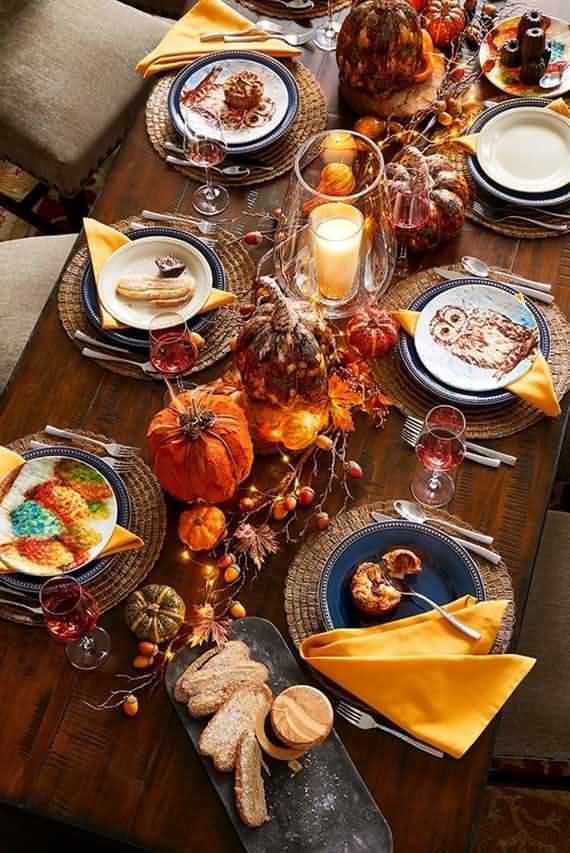 For Fall Table
Use Wildflowers
Liven up a country kitchen or rustic breakfast buffet table this fall with bright yellow wildflowers. An aged vase will make the table look like it has a story to tell, perfect for facilitating conversation. It's the perfect fall centerpiece when you want the meal to feel casual yet thoughtful and special.
Have a Picnic
Thanksgiving at a table!! Not even close to groundbreaking. Switch it up this year and have a picnic, with a soft and romantic tablescape. Or, if you like to keep your holiday tradition, well, traditional, then try the picnic look for a more casual fall dinner party.
Classic Decor + Unconventional Colors=Perfection
Transitioning your table from summer to fall is literally as easy as adding in a few mini pumpkins. If you want it to feel more elegant, go for white instead of orange. And try an unconventional pop of color, like light pink. I see more of this pretty tablescape at sugar and charm.
Fall Table
It's the right time to put the season on full display with fall table centerpieces and decorating ideas. Whether you carve out a pumpkin succulent vase, DIY some adorable fall place cards, or put together a floral centerpiece your friends won't believe wasn't a florist's creation, your home will be ready for fall entertaining with these table decor ideas.
Use Fresh Colors
At this brunch party hosted by an interior designer, the woven rattan place settings and garden pots of dainty, unpretentious yellow flowers on a lemon-printed tablecloth feel classic and upbeat while the splatter painted green plates add a modern art feel. And anyone from California knows fall is one of the most beautiful-and warmest-times of year. So take your spread outside!
Go Farmhouse Chic
Here's proof that simple can be just as stunning as over-the-top. Keep your table rustic and pared down, then add in pops of color with purple placemats and orange napkins. And let the food double as decor. I think now you know how to set your Fall table.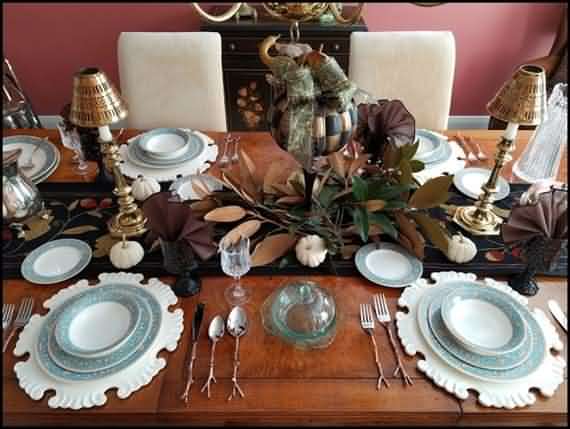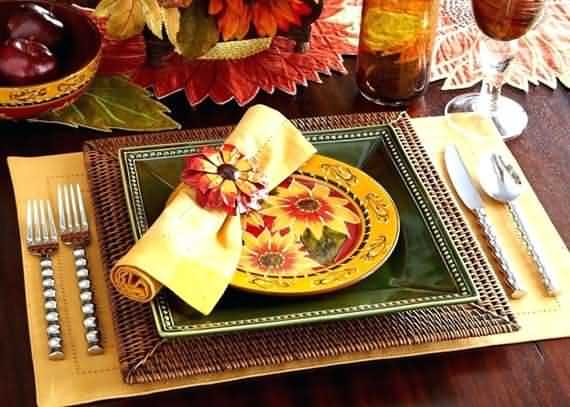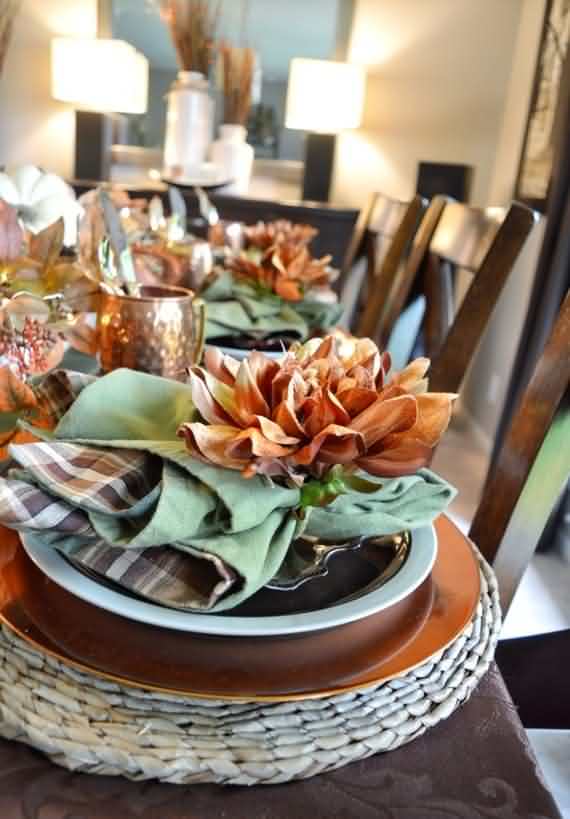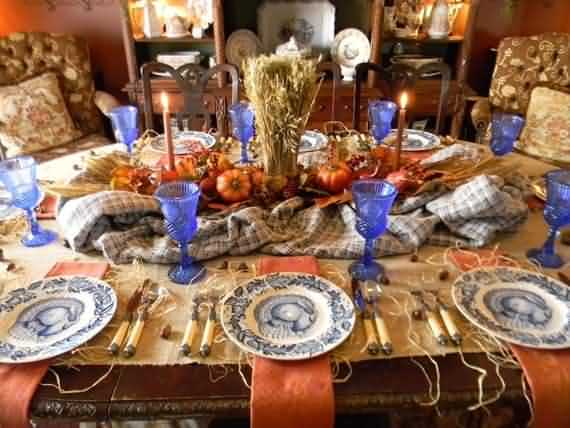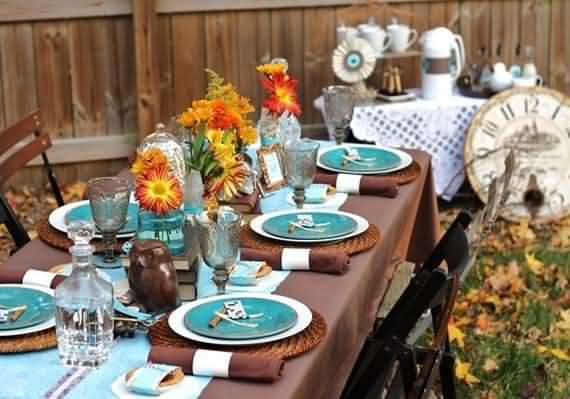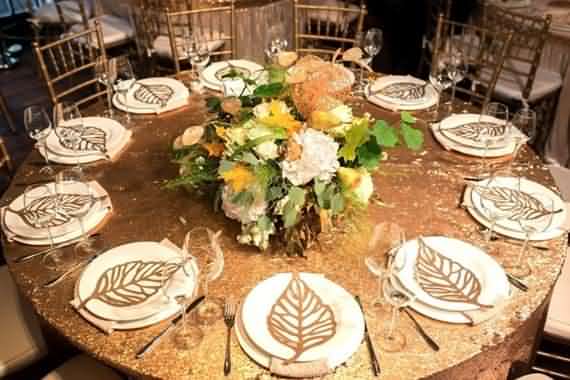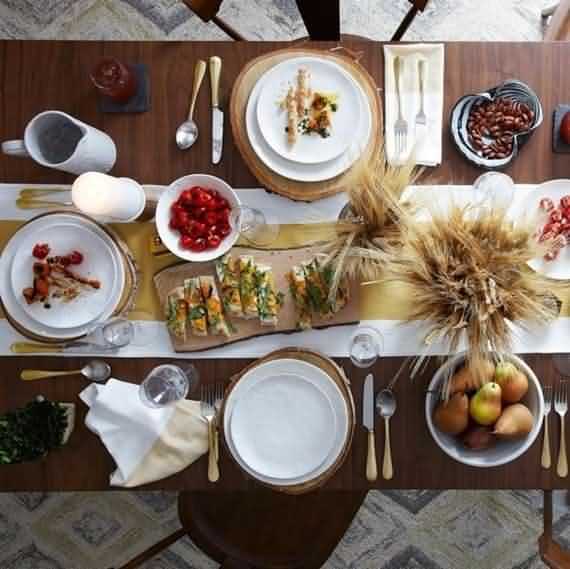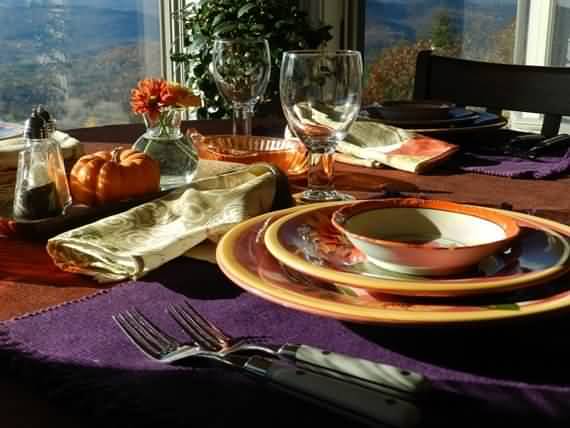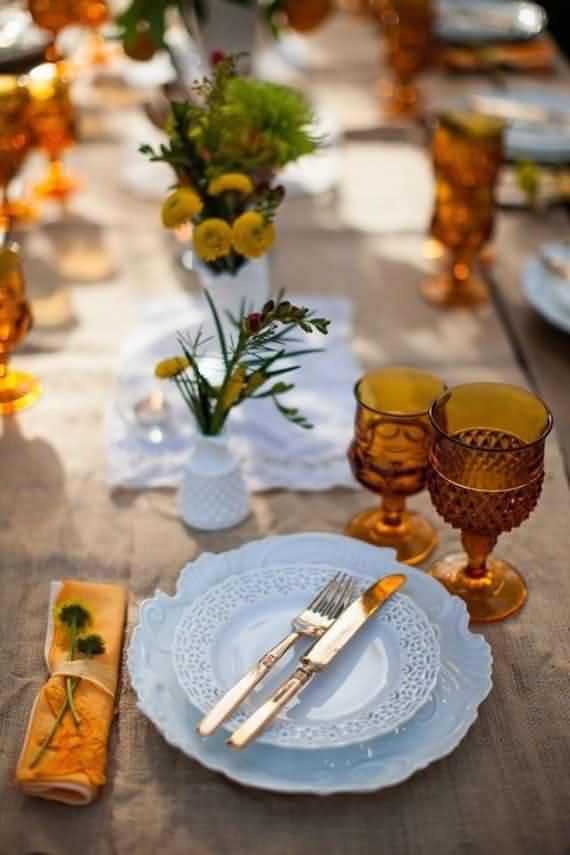 Make Citrus Modern
Roses paired with citrus and wispy branches makes for a dramatic and colorful centerpiece, no matter the season. Surrounded by black candles, this tablescape is the perfect blend of edgy and whimsical.
Have Fun in the Field
This pretty outdoor setup made in some famous places, the ceramicists behind all these lovely farm house pottery. The earthy textures and tones of their ceramic pieces blend in beautifully with the surroundings; and those potted plants on the table are actually edible. So if you're looking for fall centerpiece ideas that'll beautify the table while also adding some functional flavor (literally), take note. We think it's a fall table Joanna Gaines would totally approve of.
Add Colorful Succulents
You better believe margs will be flowing. Throw a fall fiesta complete with colorful textiles, tiny cacti, and a geometric runner. Cute little succulents will liven up any spread and they're also a lot easier to take care of than floral.
Go Green
With a bowl of apples in the center of the table and a green leafy bunch casually arranged in a pitcher, this table is effortlessly chic. It is apple season; after all, so why not let the little stone fruit steal the spotlight?
Go for Flower Power
Floral in rich, deep colors will anchor a more whimsical country chic tableware set and tablecloth. You can use some of painty flowers plates, these plates are channeling cheer and reflecting the floral theme throughout. The rattan chairs keep things casual and comfortable, too. Perfect for a fall table that doesn't feel overly thematic or seasonally specific.
Make Your Dessert Decor
A muted red tablecloth grounds this table while the wooden serveware sticks to the rustic, easy-going atmosphere. Keeps it simple with a few pomegranates lining the center of the table. It's the right time to tell your friends How To Set Your Fall Table.